So our African Adventure finally comes to an end as we summit the famous Table Mountain in Cape Town, South Africa.
After our trip through the townships and Robben Island, we had our last day in Cape Town. What better way to spend it then to check out the view from the top of Table Mountain?
Now the first thing you see when you arrive in Cape Town is Table Mountain. It over looks the city and makes up Cape Towns beautiful backdrop.
We made our way up the mountain as far as the taxi could go. Got out and purchased our tickets for the rotating cable car up. As we were too lazy to actually walk up ha ha. But in all fairness it is quite a mission to walk up Table mountain, and it takes a couple of hours.
While waiting for our cable cart we learnt that Table Mountain is now part of the seven natural wonders of the world.
Scaling the mountain side
Our cart finally makes its way down and we all load in.
On each cable cart going up they have a well underneath to fill it up with water to bring to the top of the mountain. As that's the only way to get water up there.
The cable cart was jam packed. So at first the idea of this thing rotating while we were going up the mountain was a bit daunting. But as we started moving everyone found their place and we all got to see the beautiful scenery on the way up.
We made it to the top of Table mountain in Cape Town!!!
Once we arrived at the summit the wind was blowing a gale! We quickly checked out a viewing platform where you could have a good look at Lions head mountain.
And then another spot looking over the back of Table Mountain.

The views from up here are breathtaking!!!
We decided to get away from the crowd and went on a walking trek to the highest point of Table Mountain.
The round trip would take about two hours. So we filled up our water bottles and off we went.
About 10 minutes into walking there were no people around at all. It was perfect!
We came across a gorge which has a trail that leads down the other side of the mountain. But we didn't want to get side tracked so kept on our mission.
Along the trail there was these little wooden bridges that crossed over rocks. Some were in good shape, others not so much.
Once again the views from up here are next level!!
We finally approach a large rock wall which will lead us to the highest point.
Once we climbed up the rocks the landscape opened up and in the middle was a pile of rocks.
This pile of rocks is the highest point of Table Mountain and is the Maclear's Beacon.
We climbed to the top of the beacon with the quickness.
We chilled out here for a bit before making the trek back to the restaurant for some food and beers.
What an amazing spot for the ladies to enjoy their wine and a nice cold beer or two for myself 😊
All of a sudden we heard an air raid siren going off. Over a loud speaker they said the last cable cart was leaving in 30 minutes. As we walked outside we instantly noticed that the wind had picked up. It's not unusual for the the wind to pick up very strong late in the afternoon. Sometimes it pushes the clouds straight over the top, which is what they call "the Table cloth." From down below it looks amazing but up here I'm guessing it's not the best place to be.
The wind got stronger and the air got so damn cold. We were standing in line shivering as the cold wind ripped through my Tshirt. Finally got on the cable cart and made our way back to the bottom.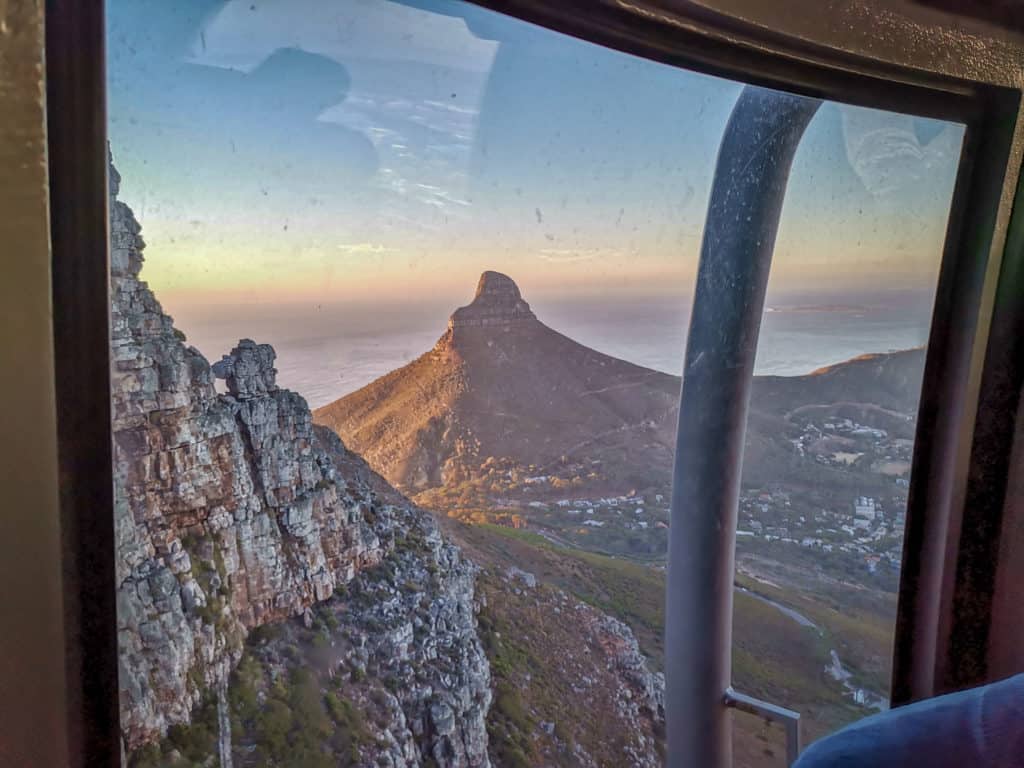 We then headed back to the Waterfront for our last dinner in Africa.
WOW! What an adventure the past three weeks have been! One I will truly remember for ever.
So that's a wrap!!
Check out this highlight edit from the 22 day overland safari with Africa Travel Co.
Three week safari in the books, TRUCK LIFE🤘
Started in Victoria Falls, Zimbabwe…
through Botswana…
Namibia…
and back into South Africa ending it today right here on top of Table Mountain in Cape Town!!!

5671km on the road, 6 border crossings, 21 night safari,
18 nights sleeping in tents, two discovered pillows,
Nine 4X4 adventures, one drunk stranger 4×4 adventure which included anti pasti and wine to see hippos at 1 am,
Three national parks –
Chobe National Park
Okavango Delta National Park
Etosha National Park
Toto at every bar, two dislocated shoulders,
All the games of shit head and thank god Mafia wasn't introduced earlier in the trip! Got to see four of the big five…
We'll be back for the Leopard… Memories we will keep forever. Thanks to everyone we shared this trip with, its been SO awesome. And shout out to Renee for actually surviving a three week camping trip through Africa!
Here is a list of all my African Adventure blogs in case you missed any-
If you are interested in doing a overland safari check out Africa Travel Co.
Happy Travels!