Crocosaurus Cove's Cage of Death gives you the opportunity to swim with a giant saltwater crocodile!.. So if that sounds like a crazy thing you would like to do then head to Darwin, Australia.
Crocosaurus Cove is home to lots of Australian reptiles including four huge salt water crocodile's also known as saltys.
Now what makes this place special is that you can actually get into an acrylic tube and get into the water with these dinosaurs!!
What is the Cage of Death?
They call it the Cage of Death. Which the name is a bit misleading as it's not a cage and no one has actually died…. The Cage of Death is actually a tube made out of acrylic which is 4cm thick and about 3 meters high.
The tube is attached to a runner that spands over the four enclosures. Which lowers you and your friend into the enclosure with the crocodile's.
The cage mechanism has malfunctioned in the past. And some poor participant was stuck in the cage for 30 min while hanging above the crocodile pen! But this didn't deter us.
None the less it sure is a heart stopping experience once you enter the water with these 4.5 meter plus saltys!!
Now the best way to distinguish the difference between a crocodile and an alligator, is to pay attention whether it sees you in a while, or later.
We were the first ones to enter the park. The crocs hadn't had breakfast yet… So I imagine they wanted the cage in there… and make it snappy 🐊 😂!!
We signed our life away and were ready for a once in a life time experience! To get face to face with a salt water crocodile.
As their name implies, Saltwater crocs are found in salt water, but they are also found in fresh water, which is not what their name implies. It just goes to show, they're not to be trusted.

– Russell Coight
Ready for our Cage of death and crocodile swim experience!
They equipped us with these state of the art water goggles. Then we were good to get into the tube.
Inside the tube we had an emergency stop chain in case anything went wrong. At the bottom of the tube is a mesh square which let's the water into the tube so you can submerge yourself inside the tube and swim.
They shut the gate on the roof and we were now in motion.
They maneuvered us to the enclosure of Will and Kate. Think of it like a reverse giant skill tester. But in this version there was fresh meat inside (us) and the toy (croc) is more interested in the claw (tank) haha.
It's a super cool experience to see a crocodile this close up.
William shares his enclosure with his girlfriend Kate. Originally their names were Houdini and Bess. But the names were changed to William and Kate, to mark the royal wedding in 2011. Which I think is pretty lame… The original names are way better!! So I'll call them by their OG names.
Houdini earned his reputation as an expert escape artist after climbing into multiple crocodile traps and stealing the bait before escaping.
This very clever Houdini continued to elude capture and was even seen at the famous Mindil beach, before eventually being caught at Elizabeth River.
From here he was then relocated to the Darwin crocodile farm where he continued to cause mayhem… But like most wayward males it was a woman who would eventually settle him down.
Ever since he met Bess in 1991 he has stayed put. They now are a successful breeding couple and produce eggs every wet season.
Houdini is 4.6meters long and weighs 690 kg. Bess is only 2.8 metres long and weighs 110kg.
Some Australian Saltwater crocodile's can grow up to 20 feet, but most only have four.
Now once we were lowered into his kingdom, Houdini started circling us.
The way he was staring at us through the acrylic was intense. You really get a feel for why they are an apex predator and have survived since the age of dinosaurs!
It was really cool to go under water in the tube and watch him swim around us.
Only Houdini was in the water with us. As Bess stayed next to her nest to guard her eggs.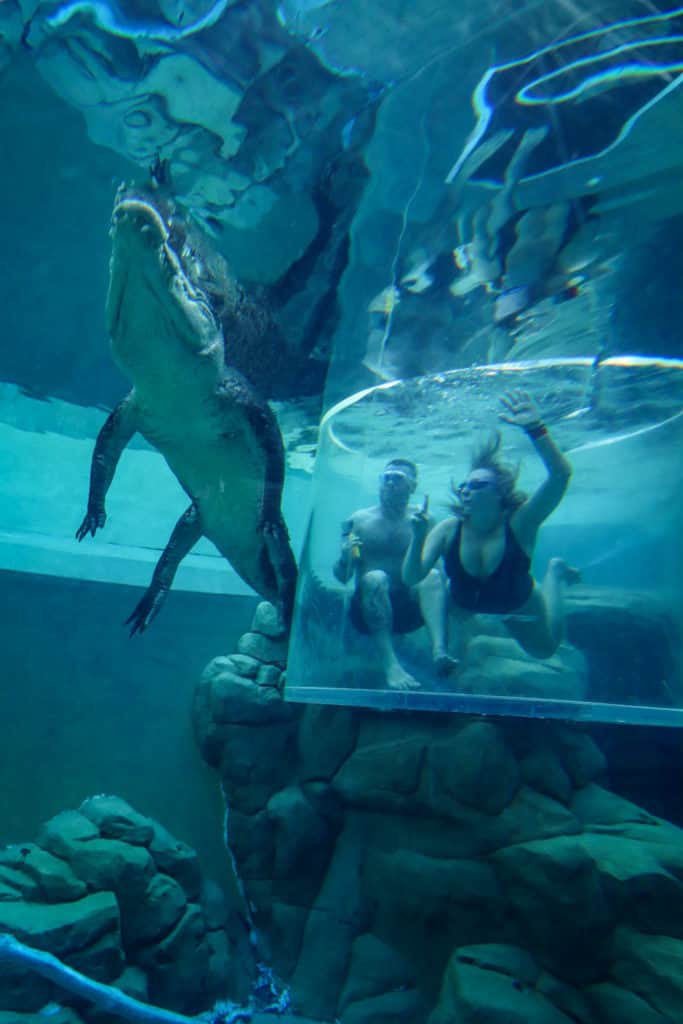 You spend 15 minutes inside the tube which is the perfect amount of time. At the 10 minute mark it's FEEDING TIME!!
They dangle out a piece of chicken attached to a long pole and put it right next to the tube.
Houdini seemed to be more interested in what was inside the tube for breakfast than the little piece of chicken.
Eventually Houdini fell for the bait and slowly stalked the peice of chicken then all of a sudden SNAP! He launched at the chicken and snapped his jaws shut with over one tonne of pressure, which made this loud popping sound.
Man that was intense!!
He missed his breakfast so he went for a second try right up against the tube. As he attacked the chicken leg we both jumped back in fright. This time he left a huge scratch on the tube. I wonder how often they have to replace these tubes as it was pretty scratched up.
A couple more snaps and he had a full tummy and our cage of death experience was over.
They raised us out of the water and over the other enclosures. Then when we were back where we started, they opened up the cage roof and dropped the ladder down so we could escape.
Wow this sure was a once in a life time experience. It was crazy to get so close to a crocodile and live to tell the tale!
Where is the Crocosaurus Cove?
You will find it in the centre of Darwin in the Northern Territory in Australia on the nightclub and restaurant strip of Mitchell Street.
How much does Cage of Death cost?
At the time of writing, Cage of Death is $185 for one person or $285 for two people.
For more info on the Crocosaurus Cove visit their website.
$$$👉 Or alternatively check out Backpacker Deals to receive 10% cash back!! Plus receive an extra 5% discount when using our discount code FWS5 😁 👈$$$
Thanks for stopping by, as always Happy Travels!!
Check out this video we from our Cage of death crocodile swim experience.
For more close encounters with animals check out these blogs 🙂
Sheldrick Wildlife trust Kenya
Quokkas – world's happiest animal
Snorkelling with turtles, Gili T
Pyramids of Giza on the back of a camel
Or for more Northern Territory blogs, check out
Is three days long enough to see Uluru in Northern Territory?