Let me introduce this cute lil guy… He is a Quokka – the world's happiest animal! And just one of the many quokkas you can see if you visit Rottnest Island, just off the coast of Perth, Western Australia.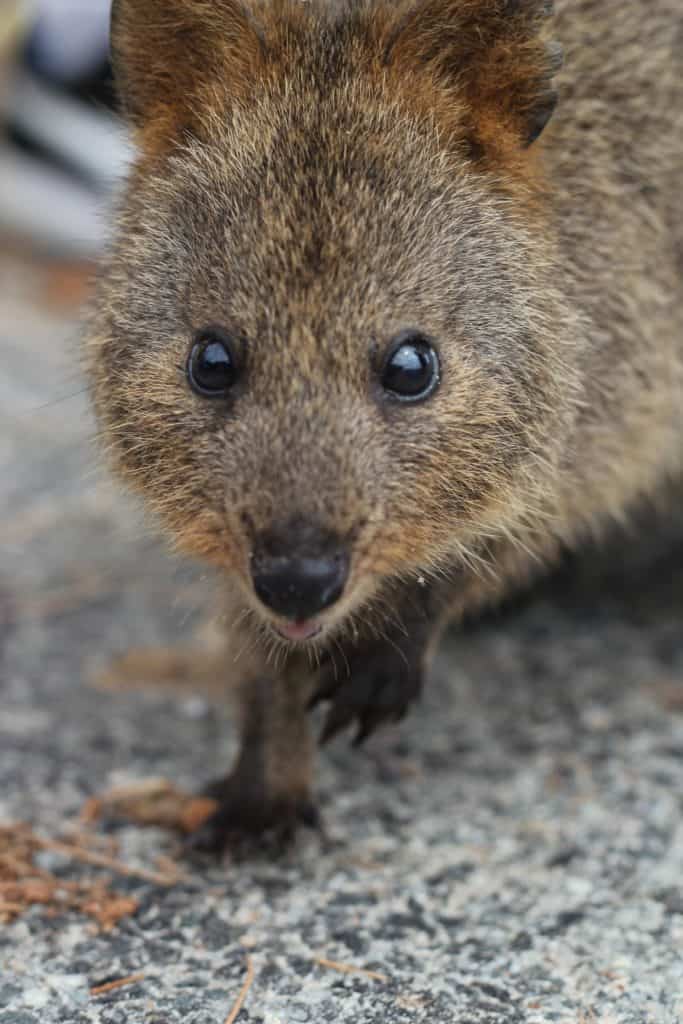 Getting to Rottnest is easy, it's just a ferry ride away! There are three departure points. The quickest is from Fremantle which is approximately a 25 minute ride. Leaving from Hillary's boat harbour will take about 45 minutes. From Perth's Barrack St Jetty it is a 90 minute ride.
We left from Fremantle, so after a fairly short but particularly rough ride over (pretty sure we were airborne more than a few times!) We arrive on the island ready to find some quokkas.
It isn't long until we spot our first one! About the size of a household cat, these herbivorous marsupials are mainly nocturnal but are still pretty active during the day as well.
We spent a day at Rottnest and with the help of hired bikes, got to see pretty much the whole island.
On our ride, we saw plenty of active quokkas, beautiful beaches and a lighthouse.
When we stopped for a swim/snorkel we even found some sunken shipwrecks.
Rottnest Island got it's name from an early Dutch visitor who mistook the quokkas for large rats! Assuming the island was overrun with "rats" he called it "Rattenest." In Dutch this essentially means Rat's Nest. Down the track they changed the name of the island to Rottnest.

Rottnest Island owns the title of home of the quokka. It is also a protected nature reserve. Although you can find some small groups on the mainland.
They are super friendly and not too shy of humans. Unfortunately, they probably should be. Some pathetic human beings have been known to hurt these cute little critters!
This guy seemed to really like Atomic Tomato flavoured Samboy chips 🙂

As well as free roaming quokkas we also saw lots of peacocks. Including this one who decided to strut into the restaurant that we had lunch at.
Rottnest is also home to some of the countries best and most deserted beaches.
So, if you follow the Pet Shop Boys advice and find yourself going West, definitely check out the quokka AKA the world's happiest animal in it's beautiful home! I'm sure you won't be disappointed 🙂
Another amazing Australian Island worth a visit is Stradbroke Island in QLD!