What do you think is the best way you can see the Pyramids of Giza?
Is it driving past them on the highway?..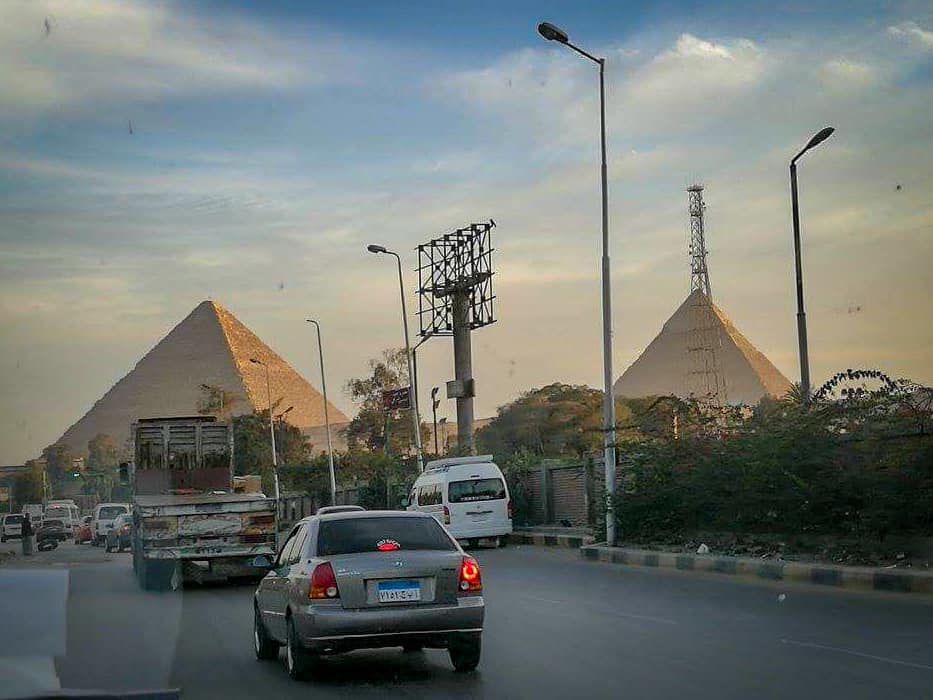 Seeing them all lit up at the nightly technicolour, laser light pyramid show extravaganza?..
Walking around the base and exploring the surrounding area?..
Actually going inside the third Pyramid and descending down into the burial chamber?..
Or riding on the back of camel, off into the sand dunes, with the Pyramids of Giza as your backdrop?
Obviously all these options are a great way to see this ancient wonder! There is nothing quite like seeing the Great Pyramids with your own eyes 👀… So whether, it be seeing them just a few meters away. Off in the distance as you are driving around Cairo. Lit up by coloured lights or from inside of one. You definitely can't go wrong!
I feel so lucky to have seen them all of these ways but seeing them on the back of a camel was definitely my favourite. It was also one of the highlights of my entire Egypt trip!!
We climb aboard our camels just outside the third Pyramid. My camel's name is Bob Marley and Gerard's camel is named Alex. Our camels are led by locals so don't worry if you aren't an experienced camel rider, you have a safe trip ahead of you. Once our camels are standing (make sure you hang on and lean forward!) Then we are off, in the direction of the dunes.
The pyramids slowly get smaller as we go further out into the desert. Luckily we went in winter so it was pleasant weather. I'd say it would be pretty horrible in the middle of summer! Once we get to a good spot with all three pyramids, as well as the two smaller pyramids in the distance it's time for photos with this amazing backdrop!

Here are a few of my personal faves. Love the cheesy tourist poses they made us do 🙂
It seems that even when you are on the back of a camel, you can't escape the Egyptian street (or in this case desert) hustlers! On our way back, we get given/sold/forced some cold soft drinks. We don't really mind though. We are getting used to the hustle. Besides, the cold drinks are refreshing on our ride back.
All up we spend about 45 mins on our camels. Despite being asked for more money after our ride, as I said the hustle is strong here. I think seeing the Pyramids of Giza on the back of a camel is by far the best way! We had so much fun and it felt like we were adventuring nomads. 100% recommend.
P.S. Egypt's tourist numbers have been down the last few years so it's a great time to visit, as there aren't as many pesky tourist getting in the way of your pics! But that also means business is slow for the locals so that's what I meant with the hustling. They have to work harder and that can sometimes be a bit intimidating but generally everyone is pretty friendly and it is a great place to visit!
Here's more on how we kept On the Go in Egypt 🙂