Up in Darwin, the pubs are few and far between, which means you'll need to take a helicopter if you intend on doing a pub crawl.
Just kidding.. Pubs are everywhere!! But doing a helicopter pub crawl in Darwin is a great way to combine scenic flying with first world binge drinking.
Not only will you see some of the Top End's most remote landscape and coastline… You'll get to drink at some of the most interesting and unique watering holes along the way!
What is a pub crawl?
For the uninitiated a pub crawl is a tour taking in several pubs or drinking establishments. Usually you walk between the venues as they are normally close together.
But when you include a helicopter in the equation the traditional pub crawl is taken to another level… Sky high 😆!!!
Full day Darwin helicopter pub crawl itinerary
Your helicopter pub crawl starts at the Aviation Museum in Winnellie. Which is a 10 minute drive out of Darwin. Although I recommend catching a taxi as you won't be able to drive back!
Arrive around 9am so you can sign paper work, get weighed, briefed about the chopper and safety demo.
About 9.30am head off on your celebration of first world alcoholism!
First stop – Lodge of Dundee
Second stop – Crab Claw Island resort
Third stop – Darwin River tavern
Fourth stop – Goat Island
Fifth stop – Choice of Noonamah tavern or Barramundi adventures.
Arrive back at Aviation museum around 4.30pm.
Our Darwin helicopter pub crawl
Caught a taxi from our hotel in CBD and arrive just after 9am. Sign our lives away and meet our pilot, Odyn.
After the safety briefing and getting kitted up with these fashionable life jackets… It's time to hit the sky!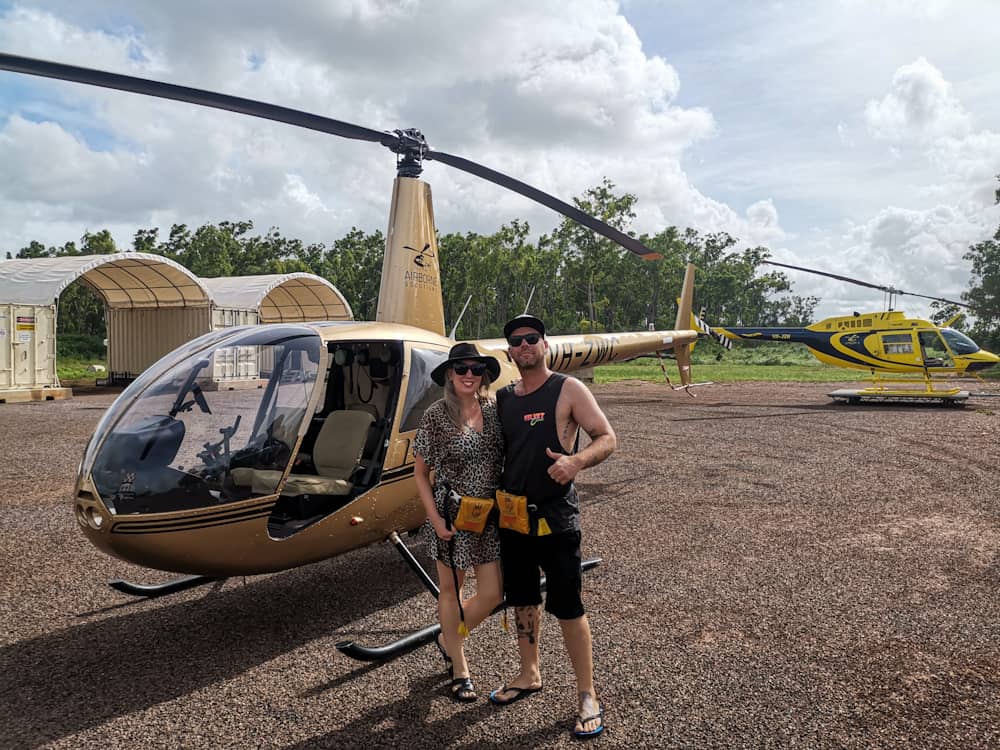 Take our seats, secure our belongings, and test out our headsets, then it's finally time to take off 🚁!!!
Weather is a bit cloudy but Odyn thinks we'll have a good day of flying.
Firstly we set off over Darwin where we see the waterfront, CBD, casino and Mindil Beach from above.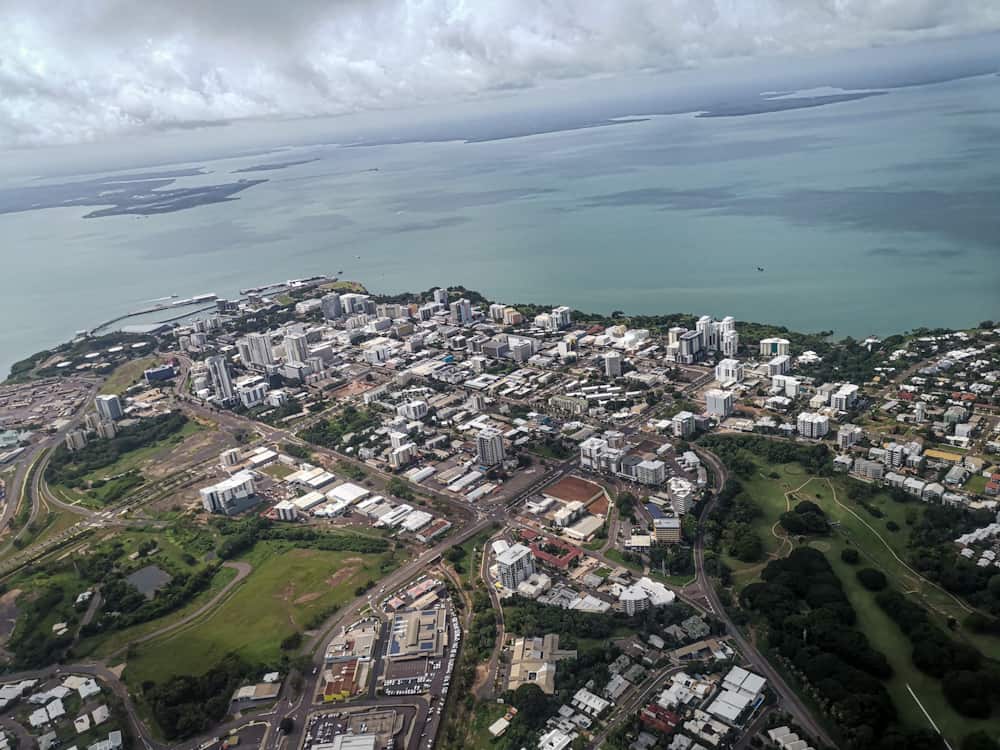 Then fly out over lots of little islands and take in the vastness of the remote coastline.
By the time we arrive at the Lodge of Dundee we've had a great scenic flight with 36 mins in the air!
Lodge of Dundee
The lodge is located on the beachfront of Dundee beach. This area is well known for great fishing and is a prime location for sunset drinks 🌅
But since we arrived just after 10am, I think a mimosa and toasted sandwich is in order to start the day… However Gerard jumps in with the first of many beers 🤣
Enjoy our first drinks of the day, while appreciating the quiet and peaceful atmosphere of Dundee beach.
Once we're finished, Odyn recommends leaving here a little earlier to spend more time at our next stop… So we grab some "airies" for the air!
Crab Claw Island resort
The flight to Crab Claw is just under 20 minutes. Which is mostly across the vast coastline once again.
On our way there we spot turtles and sting rays from the air!
The resort we're visiting is located on Crab Claw Island which is 130km by road from Darwin. But despite being called an island, this is only the case at high tide.
Nonetheless there's still pristine waterways everywhere and we get to land on the beach in true rockstar fashion!
Have a cider and rum here as well as a good chat with Odyn.
Then in no time it's time to head off like rockstars once again 🤘
Darwin River tavern
Our third stop is at Darwin River tavern which was formerly the Litchfield pub.
The tavern sits on 120 acres and has a miniature animal farm as well as a pet freshwater crocodile.
We spend a bit longer here as this is where we're having lunch. So that also means there is time for two cocktails 😉
After our lunch it's time to "Get to the CHOPPER" once again 😂
Goat Island
Now this place is kinda famous. The owner, King Kai, is an eccentric character and there's a video doing the rounds of his dog getting eaten by a croc. RIP Dumb blonde.
In order to land on Goat Island, Odyn needs to do some precision flying, as there is only a small clearing amongst the trees.
Lucky for us his flying and landing skills are on point. So now it's time to meet the famous King Kai!!
End up spending extra time here as it starts pouring rain. Odyn checks the radar and there's a big patch of rain right around us.
So we're just going to have to wait it out… Which basically means we're going to have to drink our way out of this!!
The rain gets so heavy at one point that we relocate inside. But after two drinks the rain has started to ease so we take a third for the air.
After we leave Goat Island we spot some brumbies below. So Odyn circled around and started rounding them up.
As we flew low to the ground we also noticed some buffalo and wild pigs in the scrub. After a couple drinks these crazy manoeuvers sure are alot of fun!
Noonamah tavern
Located on the Stuart Highway, we drove past this on our way back from Kakadu.
But we didn't get a chance to stop then, so glad we get to check it out now.
The tavern also has a drive through bottle shop, live entertainment, yearly rockabilly car shows and frog races.
As well as a massive rodeo arena! Which I bet would go off when it's in town 🦬
Unfortunately after our drinks here, the time has come for us to return to base… So we grab a last one for the air.
Arrive back at the Winnellie base just before 5pm, very merry after our awesome ex-beer-ience 😁🍻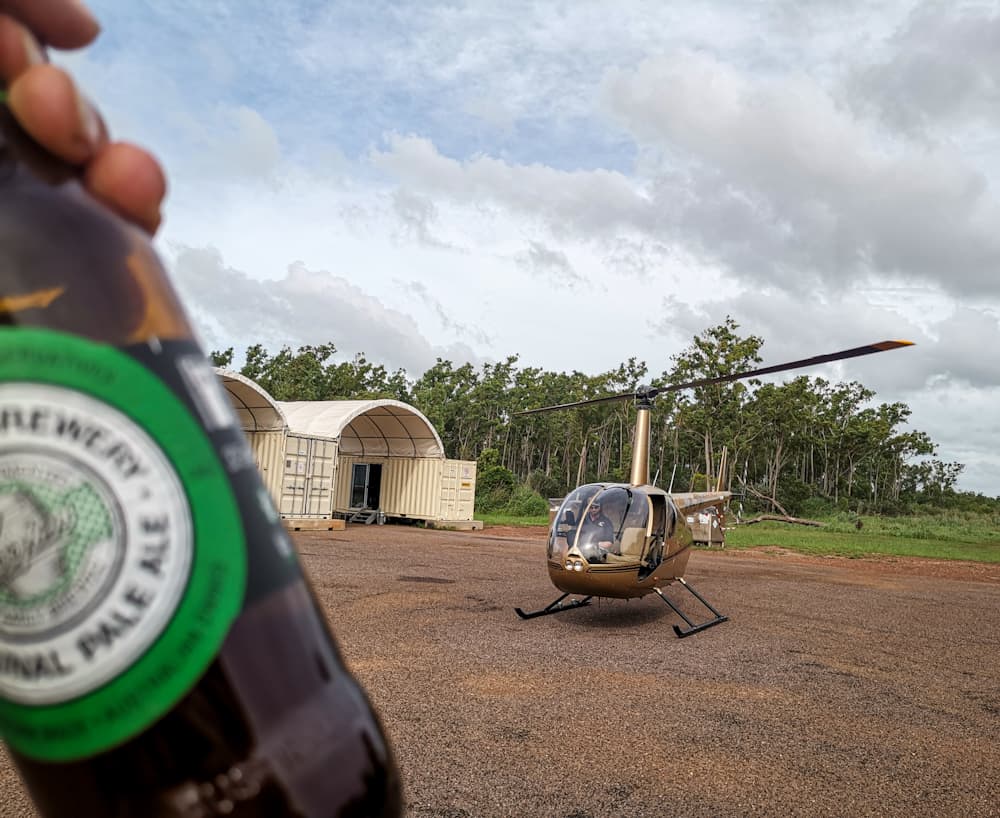 How much is a helicopter pub crawl in Darwin?
There are full day and half day options. The full day costs $990 per person. Which at first seems pretty expensive.
But considering the tour goes for approximately 7 hrs, you have your very own chauffeured chopper and a couple of hours of scenic flying it's a pretty good deal!
The half day options are only a little bit cheaper – $795 or $890 per person. And considering they only go to a few pubs and are only 3.5hrs or 4hrs long you might aswell go the full day option!
It's def the best bang for your buck as you get way more air time than your traditional scenic flight. Plus you get to drink along the way 🥂😁🍻!!!
Is a Darwin helicopter pub crawl for you?
Have you run out of ways to keep drinking entertaining and fun? Are you bored with the usual stroll in between bars? Or sick of bouncing around from club to club?
If you answered yes to any of these questions you need to book a helicopter pub crawl in Darwin PRONTO!!!
We loved our helicopter pub crawl 😁🍻🚁🥂!!!
It was one of the funnest things we've ever done. Got to see some great scenery and drink at some out of the way places. Highly recommend!
For more info or to book your Darwin helicopter pub crawl contact Airborne Solutions
For more Northern Territory blogs check these out 👇😊✌
Cage of Death – Crocodile swim
Is three days long enough to see Uluru in Northern Territory?