Snorkeling at Tangalooma Wrecks is the best place to snorkel in south-east Queensland!!
When people say the "Tangalooma wrecks" they are referring to the 15 old ships that were deliberately sunk just off the coast of Moreton Island.
The wrecks are made up by a variety of different types of vessels including old barges and flatboats.
Which makes for some interesting viewing, both above and below the water.
These wrecks get their name because they are located north of Tangalooma Island resort.
However it's worth noting, that although they are called the "Tangalooma Wrecks" they aren't owned by the resort. Which means anyone staying or visiting Moreton Island can swim or snorkel here!
So, why were the Tangalooma wrecks sunk here?
Well the wrecks were brought here between 1963 and 1984 to form a break wall for smaller boats to safely anchor.
Fast forward a few decades and an artificial reef has formed on these sunken shipwrecks!
And now this man-made reef is home to over 100 species of fish and lots of marine life.
And if you're lucky you might even spot some turtles, dugongs or wobbegongs!
When is the best time to go snorkeling at the Tangalooma wrecks?
Water depth around the wrecks varies between 2-10 meters and changes with the tides.
Keeping in mind high tide adds a lot more water around the wrecks.
So depending on what you want to see, it might be best to go in-between high and low tide.
The water here is crystal clear and on a nice day there should be visibility of up to eight meters.
But even on a cloudy day you can still have pretty good visibility, just not as far.
So pretty much any time is good to visit!
However checking the weather report and tide times will definitely enhance your snorkeling experience 🤿!
Getting to the wrecks from Tangalooma Island resort
It's a nice 20 -30 minute walk along the beach. The wrecks aren't far from shore so you can easily swim across from the beach.
But there is a fairly deep channel, that sometimes has a strong current, so you will need to be a confident swimmer.
Alternatively, if you aren't wanting to walk up the beach and swim the channel gauntlet, you can hire a dinghy from Tangalooma Water Sports.
Then you can pull up anchor right near the wrecks and just jump in from your dinghy.
Guided tours are also available for those not comfortable going out on their own.
Now if you're not staying or visiting Tangalooma Island resort, these are your best ways to visit the wrecks:
Own boat: This way you can take your time as you cruise cross Moreton Bay.
Do some fishing on the way over and pull up anchor anywhere in the wrecks vicinity. Then dive in and out of the water as you please.
Catching the MiCat ferry: When arriving on Moreton the ferry lands just up from the wrecks. Simply disembark from the ferry and then it's a short walk to the wrecks.
Don't have your own gear? No worries! There is a little hut on the beach where you can hire snorkel gear and wetsuits.
Day trip departing from Brisbane: Full day tour which includes cruise to Moreton Bay, lunch and snorkel gear.
$$$👉 Book direct with Backpacker deals to receive 10% cashback on your tour! Plus use our discount code FWS5 for a further 5% discount 😁 👈$$$
Snorkeling at Tangalooma wrecks tips
Now this place is a pretty popular spot so don't be surprised if there is a LOT people here.
The good thing about this is, you're going to feel pretty safe having all these fellow swimmers and boats around!
But take care when swimming near or standing on the wrecks themselves.
There are lots of sharp edges and tides can sometimes push you up against them which isn't too fun.
Wear sunscreen! This is a must even on cloudy days. As you're probably going to spend way longer in the water than you anticipated… And all that time exploring under water means your back will be getting fried haha.
Why I love snorkeling the Tangalooma wrecks
The main reason is the close proximity to Brisbane!
Usually for snorkeling this good you would have to visit the Great Barrier Reef. But the wrecks are a much closer alternative!
With such an abundance of colourful fish and marine life there is always plenty to see here 🐠🐟🐢🐬
And best of all, they will happily swim all around you, while you immerse yourself in their underwater world.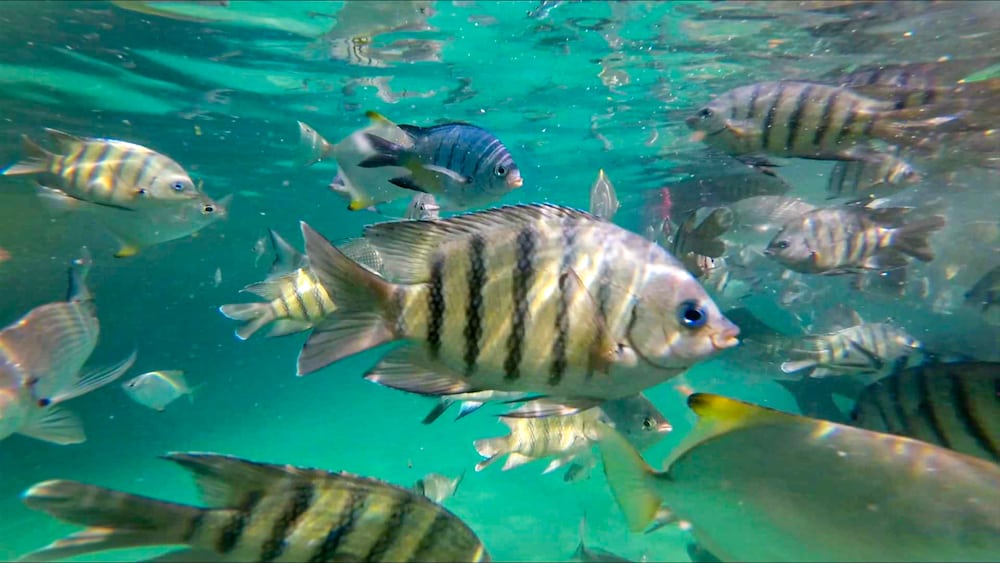 Not to mention the ever changing scenery from all the different wrecks is pretty spectacular too!
Now over the years I have visited Moreton Island many times..
On school camp, holiday house stays and day trips… And each time I always visit the wrecks and have always enjoyed it.
The water is always beautifully clear and a nice temperature. Which makes it very inviting!
So whether you're staying on Moreton Island or just visiting for the day, make sure you visit the Tangalooma wrecks.
For more snorkeling blogs check out 🤿😁👇
Reefsleep on the Great Barrier reef
Snorkeling with turtles off the coast of Gili T