Reefsleep on the Great Barrier Reef is an extraordinary experience that allows you to "glamp" while out at sea!
Imagine sleeping underneath the stars, 39 nautical miles from shore at Hardy Reef.
But you aren't on a boat… You're on a permanently moored pontoon on the outer Great Barrier Reef!
Well welcome to Reefworld – home of the Reefsleep!!
Here you can snorkel or scuba dive to your heart's content. For the non swimmers there is an underwater observatory and a semi submersible.
Or simply just relax in the sun and enjoy the beautiful Coral Sea views!
Check out our walk around the Reef World pontoon right here 👇
Your two day reef adventure starts much the same as the day trippers.
Meet at the Port of Airlie, where you depart at 8 am on the Seaflight.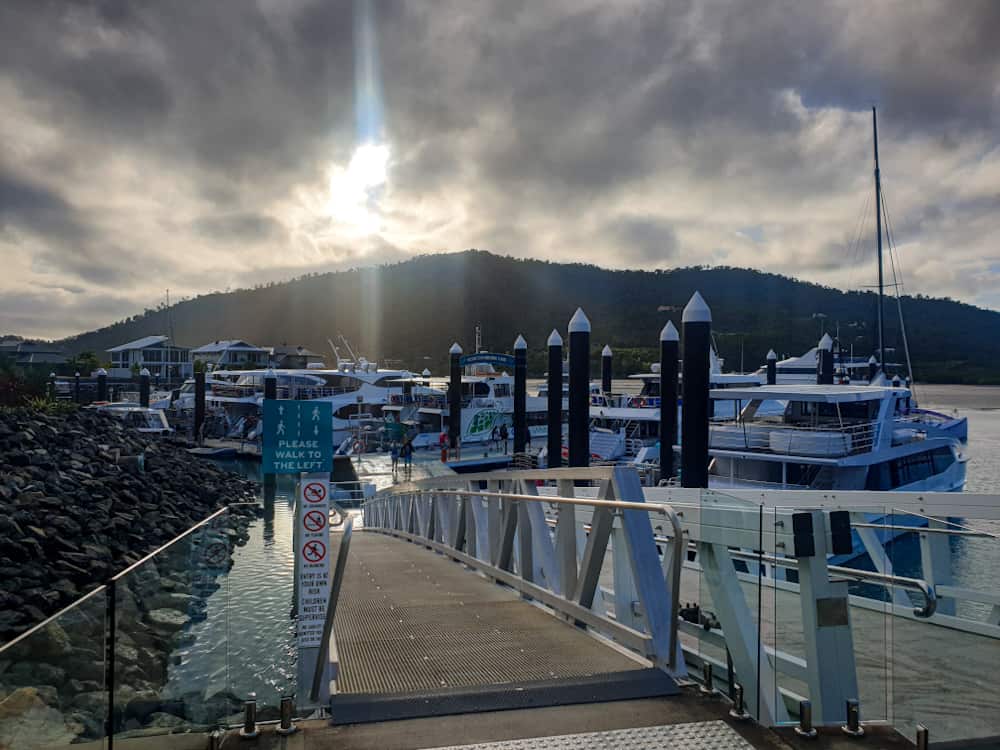 It's a leisurely cruise out past the islands. If you're travelling between July and September you might even see some migrating whales 🐳
While on board you will meet your fellow Reefsleepers and hosts – Ours were Fenna and Michelle 😊
They will brief you on what's going to happen over the next two days.
But more importantly they will issue you with your Reefsleep wristbands! These bands entitle you to all the juice, soft drink, beer, wine and cider you can drink 🍻
Then morning tea is served on board and you'll arrive at Reefworld around 11 am.
This is where the fun begins!!
The Reefsleep area is roped off and is exclusively for Reefsleepers. The custom swags can be used as day beds and then converted into your night time bed.
There are 12 swags up on the upper deck and two Reefsuites below the water.
Now if glamping isn't for you the Reefsuite might be more up your alley!.. Giving you the opportunity to sleep with the fishes and live to tell the tale 😉
These suites are truly beautiful and give you a real "under the sea" experience.
But I couldn't pass up the chance of sleeping up on deck under the stars ✨✨!!
More on that later though! Lunch is provided on board the Seaflight and day is spent at your leisure.
Snorkeling, checking out the semi submarine tour of the reef and chilling on our day beds.
Then as promised by all the boat crew – The best part of our day is nearly upon us… When all the day trippers leave!
At approximately 3pm the Seaflight and day trippers all head back to Airlie Beach. Yippeeee!! Leaving behind only the Reefsleepers, hosts and skeleton crew!
In our case that was 13 Reefsleepers, two hosts, one chef and three pontoon crew.
Waving goodbye to that boat is the best feeling in the world 👋!
I thought I might have been a bit anxious seeing the boat leave… As when it does, the only way back to shore is by calling in a helicopter! But was the complete opposite – couldn't wait to see it disappear off the horizon ha ha.
Reefworld now belongs to only you and your fellow Reefsleepers! You're allowed to snorkel from sunrise to sunset… And let me tell you how much the reef comes alive once the masses disappear!
Not only is there much more fish to admire and enjoy 🐠🐟🐠…
… But the colours of the coral pop so much more when the sun isn't right above you!
With the Seaflight now departed, all meals are prepared by a chef on board the pontoon.
We really weren't expecting the quality of the meals provided by Sebastian… But we all thoroughly enjoyed them that's for sure 🤤
First up was our afternoon tea.. A delicious array of cheese and crackers and fresh seafood.
This definitely set the standard of the rest of the meals to come.
After some hot showers it was time for some sunset drinks as we watched the sun slip away.
After the spectacular sunset, canapes are served and are super fancy.
Dinner follows not long after and is an alternate drop.
On the menu this particular evening was wild barramundi and a rump cap.
Dessert is a mango puree with chantilly cream and white chocolate, macadamia crumb.
All were top restaurant quality and delicious!
Something to note – Before you embark on your reef adventure, they'll ask if you have any dietary requirements.
The menu we had consisted of quite a bit of seafood. So only suggestion I have is: If you or your travelling companion/s don't like or eat seafood I would probably write that down.
As you wouldn't want to waste it or go hungry – not that you would though as food is plentiful!
In our case Gerard was super stoked because he got all the extra seafood!!
After dinner we spent a couple of hours down in the underwater observatory.
Was fascinating just watching what the fishes get up too after dark.
We even came up with a fun drinking game! Basically when you see a school of sardines you keep drinking until they all swim past.
Whenever you see a Golden Trevally, you take a sip. Which heads up will be a lot because GT's and sardines are everywhere ha ha.
And then every time George the grouper appears you have to scull your drink. Luckily you won't see him as often though!
Retire to bed around 9.30pm. Since it's the middle of winter we keep our swag zipped up.
But halfway through the night we end up unzipping one side. The swag was super warm and cozy so don't let wintertime deter you from a Reefsleep!
Wake up just before sunrise and fully unzip our swag.
Watching the sunrise over the Great Barrier reef, from under our covers was definitely one of our Reefsleep highlights!
Relax in our swags, taking in this amazing view until it's time for breakfast.
Of course breakfast doesn't disappoint and is totally worth leaving our warm, comfy swags for.
Start off with a fresh fruit platter.
Then a delicious hot breakfast is served up.
The weather today is absolutely stunning 🌞
All the crew kept saying it's the best weather they've had in months! Zero wind and no clouds. Just bright blue skies and warm winter sun 👌
So feeling extremely lucky and going to make the most out of it.
It seems the whales are really enjoying the weather too. A mum and her calf swim by the channel right besides Reefworld!
We have a couple of snorkels before morning tea, which is a plate of pastries.
By now, the Seaflight and day trippers are on their way here.
Enjoy the peaceful ambience until they arrive… So it's more snorkeling until lunch is served.
We're all starting to think this should of been called Reef'n'eat ha ha!
Lunch is another alternate drop, this time with chicken and beef.
Followed by a brownie for dessert.
We all show our appreciation to our chef Sebastian with a big round of applause. 👏
Now with a massive food coma setting in, spend our last couple of hours relaxing on our day bed.
Unfortunately as 3pm looms near we need to get ourselves ready to leave.
Really don't want to go as we thoroughly enjoyed our time here!
Back on board the Seaflight we wave goodbye to Reefworld. We're sad to leave it behind.
But what a great two days we've had!!…
…And technically our Reefsleep doesn't end until we arrive in Airlie. So make the most of our wristbands and keep the drinks flowing on our trip back!
We loved our Reefsleep experience, it's a wonderful way to really get to know the Great Barrier reef!

Not only do you get the equivalent of two day trips out on the reef.. But so much more!
That time between when the Seaflight leaves to when it comes back again is so special.
Totally recommend this amazing experience 🛥🌞⛺🐳🍻🐠🌅🥂🍽✨ !!!
Stay tuned for an edit of our Reefsleep on the Great Barrier reef 😊✌
$$$👉 Book direct with Backpacker deals to receive 10% cashback on your booking!! Plus save a further 5% with our discount code FWS5 😁 👈$$$
For more snorkeling 🤿 and camping 🏕 blogs, check these out 👇😁
Snorkeling with turtles off Gili T
Snorkeling at Tangalooma wrecks
Lady Musgrave Island snorkeling