Cage diving with a great white shark has always been on my bucket list… Which is kinda crazy considering every time I go to the beach I hope that there aren't any!
But despite my fear of them, I have always found them very fascinating. Not to mention that they're an important part of healthy oceans.
So, if I can safely jump in the water with one of these giants and live to tell the tale, I'm totally keen for the experience!!
Luckily Gerard shares this crazy idea and when he had a big birthday coming up, we knew this was how we should celebrate the occasion!
Although shark sightings are historically good at this time of year, they have been low and sporadic this year… Nonetheless we were ready for it and going to take the chance!!
First here's some history and information about cage diving and great white sharks 👇🦈
I'm sure great white sharks don't need any introduction but here's some fun facts about them anyway-
They're a large species of mackerel fish
Also the largest predatory fish
Are nomadic creatures that favour cool waters, close to the coastline
Listed as vulnerable, which is only one step away from endangered
Curious by nature, most attacks on humans are a case of mistaken identity
Are an apex predator, their only threats are bigger sharks or killer whales
Who invented shark cage diving?
The idea of cage diving was first pioneered by Jacques Cousteau in the 1950's. But then, after his own near fatal attack from a great white in 1963, Australian man Rodney Fox designed the modern steel version we know today.
After surviving the ordeal and healing from the 462 stitches, it took to patch him back together, Rodney sought to understand these magnificent but misunderstood creatures.
After a visit to the Adelaide Zoo and seeing the lions being fed in a cage, he got an idea… What if the roles were reversed???
This role reversal idea is what lead to the design of the modern shark cage! After some planning and development, a steel cage version took to the waters near Dangerous Reef in South Australia's Spencer Gulf.
Following some successful cage dives, scientists and documentary makers then started contacting Rodney to help film shark footage… Even Speilberg enlisted Fox's help to film some of the footage for Jaws!
This well and truly put South Australia on the world shark map! And not long after Jaws was released a diving company approached Rodney wanting to do a shark tour here… Thus beginning the start of modern cage diving tourism!
Even though Rodney's attack has been considered Australia's worst non fatal attack, he has dedicated his life to the conservation of these great beasts. Which he continues to do to this day.
Where can you cage dive with a great white shark in Australia?
The Neptune Islands is the only place in Australia where you can go cage diving with a great white shark. The Neptunes are located at the entrance of the Spencer Gulf in South Australia.
The Neptune Islands are a protected marine and conservation park and although no great whites live here permanently, approximately 30,000 fur seals do… Which of course brings the sharks!
When it comes to tour companies, there are only three options:
Rodney Fox
Offers a liveaboard charter with both surface and ocean floor cage options. But to dive in the ocean floor cage you will need to be a fully certified diver.
Offers one day charters with a surface cage. Their surface cage is the biggest one in Australia and fits up to eight people at a time. Are the only one day charter licenced to berley. By using berley it increases your chance of seeing a shark… But in the event you don't, Calyspo are the only company that offer a partial refund and vouchers for return visits. All recent and historical shark sightings can be found on their website.
Adventure Bay
Also offers one day charters with a surface cage. They play music underwater to attract the sharks. And for those not wanting to get in the water, they have an underwater viewing area.
How do you get to the Neptune Islands?
The coastal town of Port Lincoln in South Australia is the gateway to the Neptune Islands.
From Port Lincoln the Islands are approximately 70kms south and are only accessible by large boats.
So how do you get to Port Lincoln?
For anyone not already living in South Australia first you need to get yourself to Adelaide. Once here you then have three options:
Driving from Adelaide to Port Lincoln. Which will take approximately 8 hours.
Drive to Wallaroo (approx 2 hr drive) where you catch the Spencer Gulf sea ferry to Lucky Bay (about 3 hrs). Then it's another 2 hr drive to Port Lincoln.
Fly from Adelaide direct to Port Lincoln on either REX or Qantas link (approx 50 mins)
Although it's a bit of a mission to get there, would be worth it to see one of these giants from the safety of a cage!
Our great white shark cage diving experience – Take one
So our group of misfits from Qld, NSW and Victoria all made our pilgrimage to Adelaide. Once here most of us went with option 2.
We figured although it takes about the same time at least the ferry breaks up the driving!
But not going to lie probably wouldn't do it again… It's a long day and would def recommend option 3 if the flights are on sale.
By the time we finally arrived in Port Lincoln, it was already dark. So it was straight to our AirBnb for some dinner and drinks!
Although we tried to not have too big a night as we knew it was an early start… We also knew that it wasn't our first rodeo so we figured we got this 😉🍻🥂!..
.. Pleased to say we were all up by 5.30am and arrived at the Calyspo Star office at 6am sharp. We were even the first to arrive!
Don't think poor Carly knew what to think… We rolled in all chirpy which is apparently not how most of the guests are first thing in the morning ha ha.
But what can I say, we were all super excited!!..
And maybe still a little drunk 🤫 After everyone has arrived and signed in, it's time to head to the boat.
Hopefully this beautiful sunrise is a sign of a good day ahead!
Once on board we have a briefing of what to expect for the day. Then it's a three hour cruise out to the Neptunes.
Lucky for us we have eight people and we can all go in together! We choose to be first cab off the rank, so when we arrived at the Neptunes it was time to get kitted up in our wetsuits.
The crew deploy the cage and start berleying up the water.
They use tuna gills and intestines that are off cuts from the local fishing industries.
While the crew is berleying the water, we test out our goggles and the regulator. It's a weird feeling breathing through the regulators, especially if you haven't done it before.
Now the way these regulators work are different to your typical scuba setup. Instead of the hose being attached to a tank, it's connected to the boat. Then filtered air is pumped through.
But it's pretty common for it to feel like you're not getting enough oxygen. This type of breathing takes some time to get used too. And apparently after 5 – 10 mins it will start to feel normal.
Since this is a surface cage, your head will only be 30-40 cms under the water.
But getting in is still a bit of a surreal experience…. Plus climbing into the cage is easier said than done! The water will knock you around a bit and the cage and boat aren't always moving in time with each other.
And then when you're taking your first steps in, the temperature of the water is likely to take your breathe away!
Then adding in the combination of tight wetsuits, weights and breathing through the regulators, there is alot going on…
So that will def add to the feeling of not getting enough oxygen. But just try to slow your breathing down and keep calm and it should start to feel normal.
Then enjoy the sweet view of the silver trevally and King fish until (hopefully) a great white graces you with their presence.
All up we spent 45 mins in the cage but no luck with a shark just yet… Hoping the later groups have better luck and we can hop back in later.
Unfortunately it seems that today it wasn't going to happen for us, so we quickly secured places for the next days charter.
And now the bar has opened up we numbed the pain of not seeing a shark ha ha.
But at least we have a second chance tomorrow!
Our great white shark cage diving experience – Take two
Feeling like seasoned pros, our crew were all ready and raring to go for day two!
This time around we decided to change up our tactics… So opted to go as group four.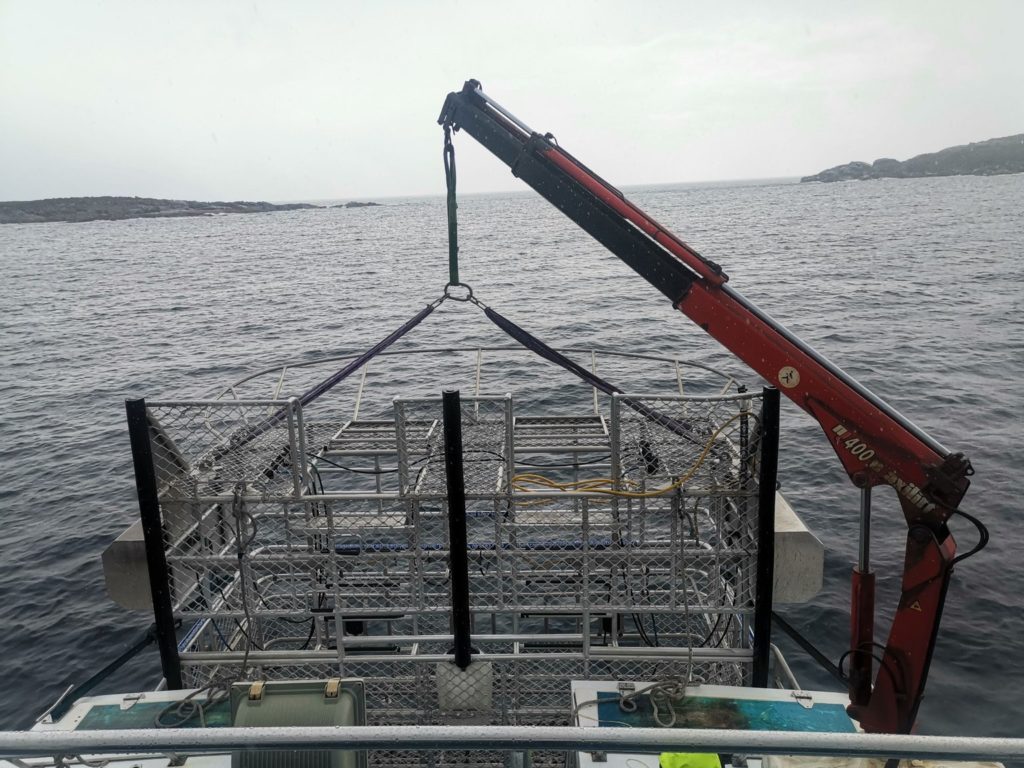 Added benefit of going last gave us the opportunity to chill and catch up on some missed zzzz's.
Along with the usual berleying, Carly also tried some new tactics today with the invention of some new stomping boots. Which was sinkers attached to her gum boots ha ha!
Sharks can sense noise and vibrations from 100m away. As well as smelling blood up to 500m away. So hopefully if there's a great white in the vicinity it'll want to check out what's causing all this commotion!
When it was our time, we were all super determined to make sure today was the day we saw a great white.
And best of all, we weren't fazed by entering the cage or using the regulators, as we all had good practice yesterday. With our game faces on we entered the cage for round two.
As well as using sinkers from our weight belts to bang on the cage, we also made sure that we were all looking different places. Because as one of the wise crew said… "If there is no shark where you're looking, look somewhere else" 😂 Fine advice indeed 👌
But despite our best efforts inside the cage and the staff's above the water, a great white wasn't to be seen.
So after an hour of trying, we all dishearteningly gave up. Luckily the bar was now open and we could drown our sorrows yet again.
Despite not seeing a great white we had great time trying!!
This also got me thinking next time I go to the beach I shouldn't be worried about getting attacked by one ha ha!
But in all seriousness, great whites have a bad reputation… Yes, they have attacked people and in some unfortunate cases it's fatal.
However in most cases the bite is due to their curious nature and they rarely go back for seconds.
But I totally get why us humans are afraid of this apex predator. Although now I'm realising that the fear around them is totally overhyped.
For example: In 2020 there was only 57 unprovoked attacks on humans. Out of these only 10 were fatal. So considering all the people that swim in the oceans daily, shark attacks are very low!
Also considering that for two whole days we tried every trick in the book while being in a known shark hotspot… Noise, sound, vibrations, blood and berley in the water and nothing…. Unfortunately we were going home with not even a glimpse of a great white!
These factors are what have provided me with a false sense of security for future beach beach trips. Ha ha just kidding I think I will always be a tad weary.
But for now our search for a great white shark has been left unfinished….
… And we'll be back as soon as the sightings in the area improve!!
So stay tuned as our cage diving with a great white shark is to be continued…..