Have you ever wanted to stay on a Great Barrier reef liveaboard before?
Well considering one day on the reef is never enough… It makes sense to maximise your time there by staying on a liveaboard!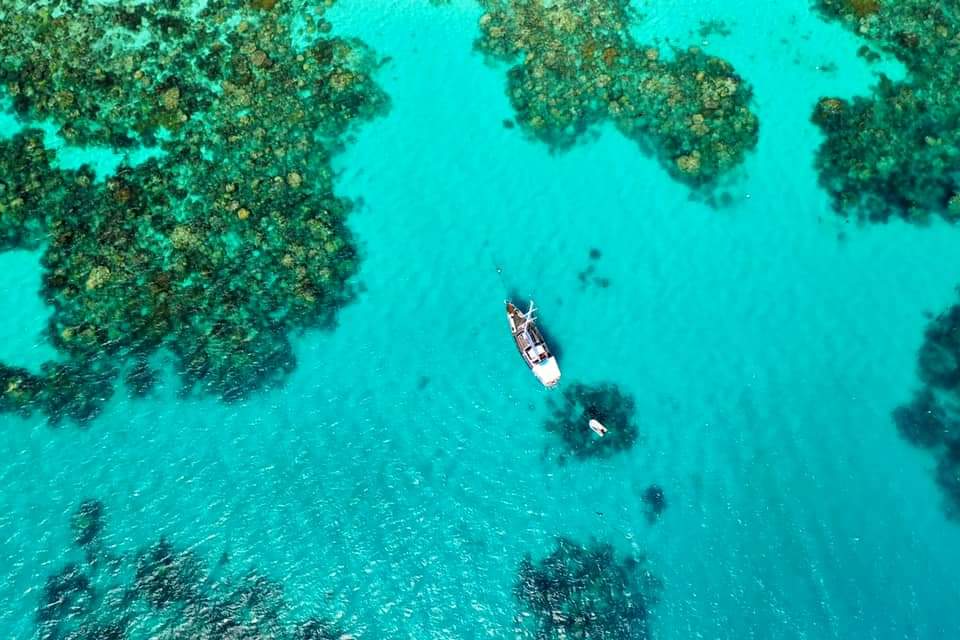 What is a liveaboard?
As the name suggests it's a boat or vessel designed to live aboard on.
Which are usually purpose built with snorkeling and diving in mind. Boat sizes vary but you can expect a liveaboard to accommodate 10 -30 people.
What's included on a Great Barrier Reef liveaboard?
This will depend on the company you book with but most trip costs will cover-
Accommodation on the boat
Diving equipment and marine levies are additional.
Our Great Barrier Reef liveaboard experience
Unfortunately our original trip fell through due to the boat being damaged a few weeks prior to departure.
But they recommended Coral Sea Dreaming – A beautiful 60ft steel hulled sailing boat that has capacity for a maximum 12 guests.
Luckily they still had availability and we booked the last double cabin that was available.
Phew, everything worked out in the end!.. And just a couple of weeks later we're excited to arrive at Marlin Marina at 7.45am for a 8am departure.
And it's a beautiful day to be heading out to sea ⛵
Coral Sea dreaming has 30 moorings over nine reef systems and our destination today will be Michaelmas Cay.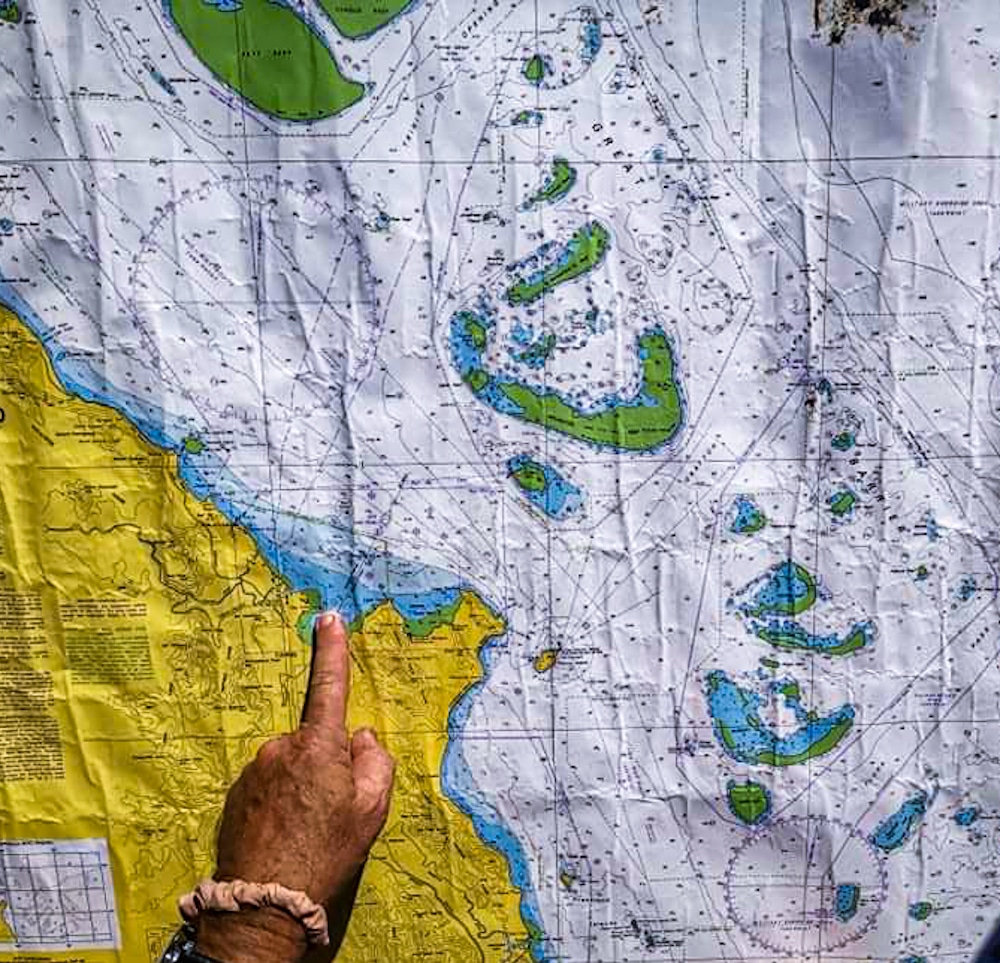 Our cruise out there will take a few hours. Which we pass by with having a tour of the boat:
The boat offers 3x double cabins and a shared single bunk room.
Guest to crew ratio is 4:1. On board there are two toilets which also double as showers – A hot shower at that might I add!
Once we've all had a tour of the boat it's time for the snorkel and scuba briefing. An awesome deal that Coral Sea offer is a free introductory dive for anyone keen to give it a go. Which is a great opportunity to try before you buy!
With the business side of things now done, all we have to do is enjoy the cruise out to our destination.
Michaelmas Cay
Is a small reef sand island on the western tip of Michaelmas Reef. Which is located approximately 40km north east of Cairns.
But you're not allowed on the cay itself as it's a protected sanctuary for migratory sea birds.
To ensure that this is enforced, the cay is under constant surveillance by satellite. Hefty fines apply for anyone who sets foot on land.
So best to stick to the surrounding water and fringing reef, which can be enjoyed fine free!
When we arrive, get our wetsuits on and hit the water with the quickness.
Everyone else is diving so we're the only snorkellers. Was going to try the intro dive but we needed a prior medical clearance for G as he has asthma.
That's ok though I've briefly tried scuba diving and wasn't a huge fan… And besides I love snorkeling so happy just to be doing that.
Think this actually worked out in our favour… As we got to explore alot more of the reef and we had it to ourselves pretty much the whole time.
Plus we got to see heaps of turtles!!.. Which the divers didn't 🐢🐢🐢
Besides the sea birds and turtles, another thing we saw heaps of was – giant clams!!
Giant clams are actually really cool.
Did you know they are super sensitive to light? So when you swim over one they literally "clam" up (slam shut).
And the best thing about snorkeling was…That as soon as our last snorkel was done, we could clock on 🍻😉
Which was a great way to enjoy the sunset!
You see the divers are doing a night dive. So they have to wait until they've finished before they can enjoy a cold one…
After dinner the divers head out on their night time adventure.
Now it's just me, G and captain Phil enjoying the starry sky out on the Great Barrier Reef 🌌😊
It isn't a late night but unfortunately don't have the best sleep. Which was disappointing as was hoping it would of been a more relaxing sleep.
But in reality, when the door is shut the small cabin feels super claustrophobic. Thankfully there was a little fan but it didn't really help much with the stuffy situation.
Wake up and have breakfast before we set sail north to our next destination – Hastings reef.
Hastings Reef
Is a horseshoe shaped reef located 50km north-east of Cairns. This makes it part of the "Outer reef".
Here you will see lots colourful fish, interesting sea creatures, coral caves, overhangs and plenty of sheer water drop offs!
Today is alot choppier than yesterday so the sailing there is a lil rockier.
Once we arrive at Hastings reef can def see the difference in water.. Yesterday the water was pretty flat, almost like glass.
But today there is a swell forming slight waves.
This will make our snorkeling a bit harder but Phil reckons we're strong enough swimmers to handle it 💪🏊‍♀️!!
The swim out to the reef is def more strenuous and water sometimes ended up in our snorkel. Especially when we didn't swim across the swell quite right.
Also if you stop swimming you get dragged with the current. So it doesn't always pay to stop as you end up having to make up more ground haha.
Unfortunately the choppiness affects the visibility a bit too. But to our delight when we get to the reef it's much calmer and clearer.
See lots more cool fish and interesting coral.
After a bit of exploring head back to the boat for a break. Once we've had some fresh water and a snack head back out for some more exploring.
Since it's going to take us about four hours to get back we leave Hastings Reef just before lunch.
Enjoy some lunch and drinks on the way back. The wind has picked up and so has the swell. Phil said if it was like this yesterday they would of had to cancel the trip!
Very thankful we had the great weather we did and were still able to head out.
As we near the marina entrance the crew surprise us with some champagne as it's someone's birthday 🍾🥂
Which was a lovely way to end the trip. What a great time we've had out on a Great Barrier reef liveaboard!! Highly recommend 👍😊👍
For more Great Barrier Reef blogs, check out 🐠👇🐟
Reefsleep on the Great Barrier Reef
Flight over Heart Reef Whitsundays
For more snorkeling blogs, check out 🤿😊👇
Snorkeling at Tangalooma wrecks