The Atlantis in Dubai is an iconic resort hotel that sits at the top of the Palm Jumeriah.
Despite the legend it's been hiding here in plain sight since September 2008!
What legend do you speak of?
The legend of Atlantis has been around for thousands of centuries. With people searching for it for just as long. There's something very intriguing about this ancient civilisation that just disappeared off the face of the Earth. But did it exist at all?
Well, Plato the great philosopher who was right about so much, must be right about this? Or not… Thus giving birth to the lost city of Atlantis myth.
The Atlantis in Dubai
While the sunken ruins of Atlantis are still to be found, for now this 5 star resort is the next best thing.
Atlantis was seen as a technological advanced and wealthy soceity so it def seems at home here in Dubai.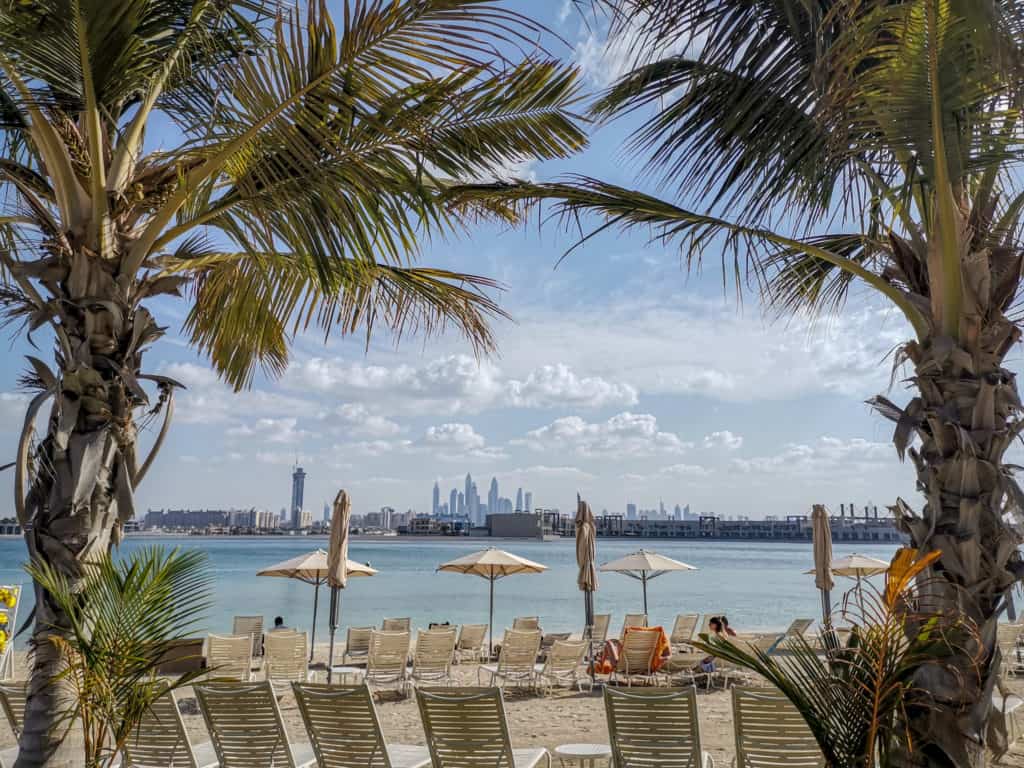 An underwater theme is present throughout.
Featuring countless swimming pools and private beaches to kick back and relax.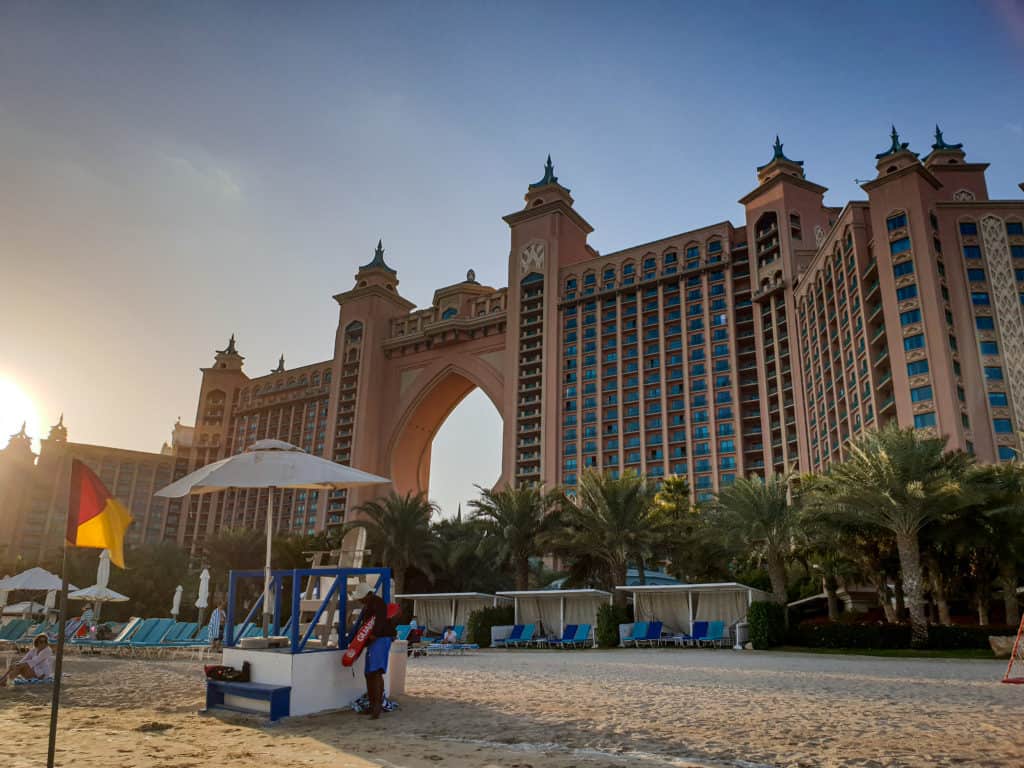 It also has it's own water park, dolphin bay and aquarium!
There is also heaps of shops, bars, restaurants, a spa and an entertainment precinct all on site.
So no need to leave this modern Alantis utopia!
But with only a two night, one day stopover here, this is how we chose to spend our time –
Aquaventure Waterpark
This was actually the main reason we chose to stay here, because then entry to the water park is free! Or you can get one or two day passes online or at the gate.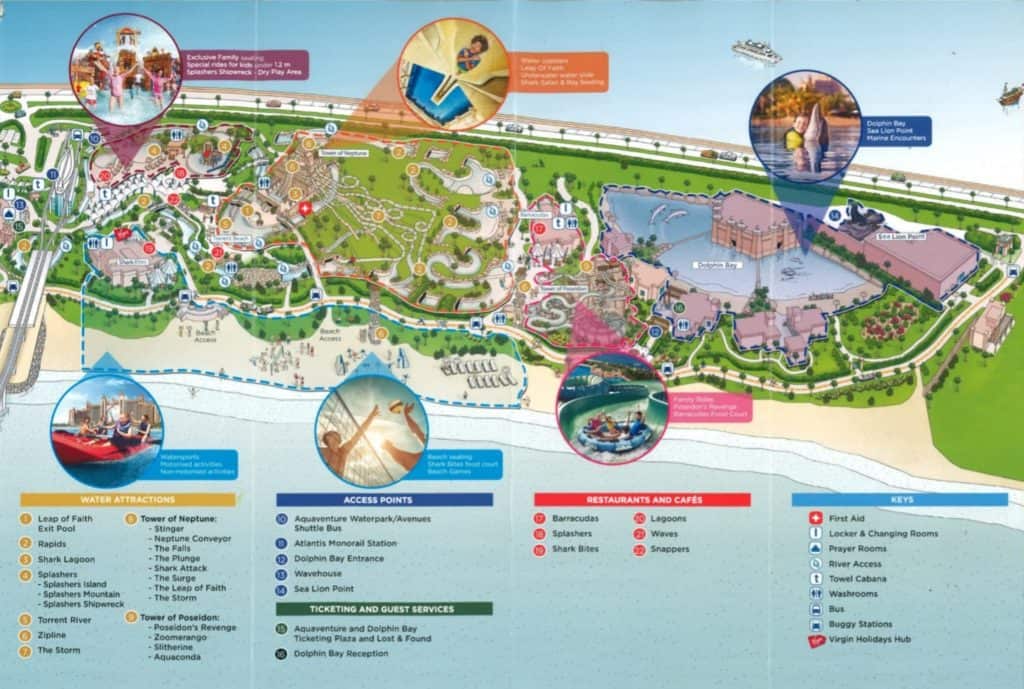 Inside the park you will find many slides and attractions, including Dolphin Bay. Park is open from 10am to 6pm daily.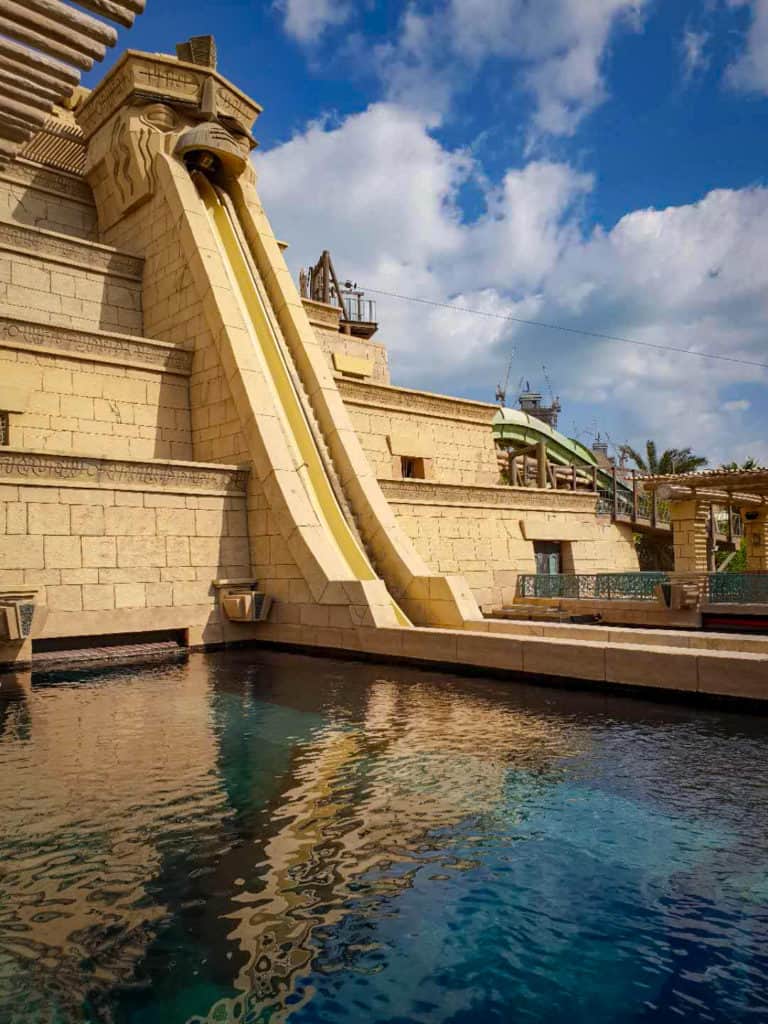 My favourites were:
Leap of Faith – a 9 storey high slide through a tank filled with sharks!
Rapid river – floating down a river with make shift rapids.
Least favourite: Poseidon's revenge – hated the floor dropping out from beneath me!
Lost Chambers Aquarium
This aquarium is the largest in the UAE and houses 21 exhibits and an impressive 11 million litre tank!
Open daily from 10am – 10pm. Also free to visit if you're staying in the hotel.
Walk along the chambers admiring this underwater world of sharks, rays and coloured fish.
For the yoga entuthisits, why not take a class within this serene backdrop?
Ocean King Room
We just finished a three week camping safari so enjoyed chilling in our room!
Super spacious with comfy king size bed, massive bathroom and balcony.
Eating ALL the food!!
With plenty to choose from. Ranging from casual to fine dining, you will be spoilt for choice.
Think buffets, a la carte and celebrity restaurants with everything in between! It's worth while looking into the half board and full board options when booking your room. Otherwise you can just pay as you eat.
For our full day here we went the full board which was breakfast, lunch and dinner. I seriously have never eaten so much in my life!
We started the day with breakfast at Saffron.
An Asian inspired buffet with over 220 dishes to choose from!
Then had lunch at the international buffet, Kaleidoscope.
Strong flavour influences from the Mediterranean and India. Depending on the day they also have themed dishes like Mexican or Italian.
Even though we were so full from breakfast and lunch, we squeezed in a late dinner. Since I didn't think it would be possible to eat a third buffet, opted to try Gordan Ramsy's Bread Street Kitchen.
Although we probably should of stuck to the buffets as they were delicious. Billed as a modern British restaurant neither of us were that impressed.
Oh well, neither of us were that hungry anyway, so that worked in our favour ha ha. Ended the night with a night cap at Wavehouse which is a pretty cool bar to get a drink at.
So until the real Atlantis is found, why not stay at it's modern day alternative?
Was a perfect place for a stopover to break up the long flight from Cape Town to Brisbane! For more info and to book directly visit Atlantis
But if you're transiting through Abu Dhabi, Ferrari World is a cool place to check out!
Or outside the UAE, Singapore is another great stopover destination. So check out these blogs to see what you can do there 😊👇
Happy travels!!!!