If you have a need for speed you're going to love Ferrari World in Abu Dhabi!! Just like the famous car itself, this place is bound to keep your andrenalin pumping.
Featuring many thrill seeking rides and attractions, it's not for the faint hearted! And since this is the world's first Ferrari branded theme park….
Why not take one for a spin???
The Driving Experience allows you to drive a California T out of Ferrari World and onto an Abu Dhabi freeway!
After you've signed your life away with all the necessary paperwork.. You're on your way to test drive this 3.9L, twin turbo V8. With 0 -100 km/h in 3.6 sec this is going to be fun!
Unfortunately a Ferrari World employee needs to accompany you on your joyride. Guess they want a bit more security than just a signature on paper haha! This isn't so bad though. As they give you tips on how to handle this beast of a machine and where the fastest parts of the freeway are.
All up your Driving Experience lasts about 45 minutes. Approximately 30 minutes of which, is spent testing the horse power and quick braking ability.
Whilst cruising around, you will feel right at home with all the other fast and luxurious cars speeding by.
A 360 degree camera on the dash captures that one time you ripped it up the road with the best of them!.. And at just a fraction of the price it costs to hire a sports car in the UAE, why wouldn't you?
Once back at Ferrari World, there are plenty of other fast paced rides to keep the heart pumping…
The worlds faster roller coaster – Formula Rossa!
A F1 style 16 seater train that experiences over 4G's. All while going from 0 to 240km in under 5 seconds!
This ride is so much fun! I imagine this is how a Ferrari whips around a race track. Just wish the ride wasn't over so quickly.
Flying Aces
Military plane styled cars with a 51 degree incline into the world's largest rollercoaster loop!
This was def my next favourite ride. Although heading into the loop was a lil intimidating. But the excitement outweighs it, so wasn't scary at all.
Karting Academy
Suit up and race on a 290m looped track. And hopefully smoke all your competition. Just like Gerard did….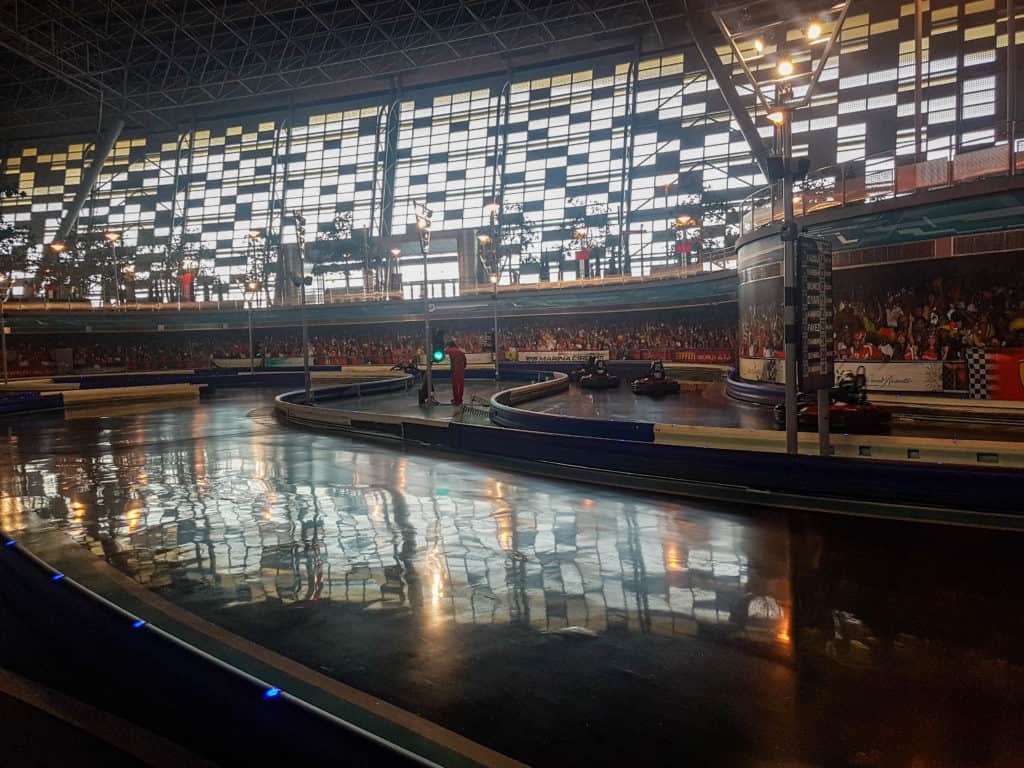 Check out his winning tale 👇
"We entered into a change room to be fitted with overalls, gloves and helmets. The anticipation for the race that was about to go down had everyone sizing up their opponents before the big race.
There was an Italian guy there with his two teenage boys. Now this guy loves Ferrari. He was decked out in a Ferrari jacket with a hat to match. I over heard him talking mad smack. Saying "now watch your old man, he will show all these chumps how to race." I just pretended like I didn't hear him put on my helmet and got into my cart. He looked over at me and said "good luck champ."
Now at first I was going to just have some fun with the go carts. But now I'm on a mission to beat this ego maniac. The race was time set. So it was about the fastest lap as they staggered out the carts onto the track. After the first lap of the track I got the hang of it. Then picked my corners for the fastest lap.
It sure was alot of fun racing around the track. I could see my times were getting better and better each lap. Until they waved the checkered flag.
We got out of the carts and the guy patted me on the back saying "you nearly had me mate." And he was high fiving his kids and celebrating. Then the times came through on the big screen. I walked over to him infornt of his kids and said "nice try mate you nearly had me." As he looked up to see I had the fastest lap and beat his time by 3 seconds. Haha in your face arrogant Italian guy haha!"
Location
Ferrari World is located on Yas Island, about half hour drive from Abu Dhabi. The park is mostly indoors and air conditioned. So it's a great place to visit not only for all the fun rides and attractions. But also to hide from the brutal middle eastern sun!
We spent the day here on a 36 hr stopover through Abu Dhabi. Which made for a fun last day of a month long holiday! Even better as we were able to come from our hotel, suitcases in tow. There are lockers readily available and luggage storage at the entrance. So after a day of fast paced fun we were able to go straight to the airport. No backtracking needed to get our bags 🙂
For another awesome UAE stopover, check out our post on Atlantis
Happy Travels!!!