Now if I told you there were jumping crocodiles in Darwin, would you believe me??? Of course when we heard about it we had to see if it was for real or not… And let me tell you, yes it was. Jumping crocodiles are definitely a thing in Darwin!!
So to find these jumping crocodiles, we left Darwin and started to head down to Kakadu where we were going to be staying for a few days.
The drive from Darwin to Kakadu takes about three and a half hours. So to break it up we stopped at the Adelaide River to do the original Adelaide River jumping crocodile cruise.
As the name states and is exactly what the cruise implies –
You get to cruise down the Adelaide River to see saltwater crocodile's jumping out of the water for a little snack of buffalo meat.
Check the Jumping Crocodiles in Darwin Australia video right here 👇👇
Now the jury is out on how ethical this practice is. As crocodile's will naturally jump up out of the water to snatch an animal out of a tree for food… But teaching them to come up to a boat and jump up for food must be an absolute nightmare for the locals who fish these rivers.
We heard a couple of horrifying stories of people being snatched out of their boats on the Adelaide river and they were pretty graphic.
Nonetheless we were in the Northern Territory to see Australia's apex predator in the wild… And what better way then to see some five meter crocs launching themselves out of the water!
The Northern Territory sure is a crazy place!
A shark, crocodile, and a giant spider walk into a bar… There's no punchline, it's just a normal day in Australia's top end.
The jumping crocodile cruise has been going since 1985 and there is a number of different companies doing the same cruise. And as we noticed on our drive to the OG jumping crocodile cruise the competition is fierce ha ha.
It seemed that their number one competitor had painted over all of there advertising signs on the side of the highway leading up to their location. With the competitors signs untouched ha ha.. I thought it was pretty cheeky.
Despite the competitors best efforts we arrive at the right office ready for our cruise.
Where we are loaded onto the floating buffet and started our way down the river.
Our first crocodile encounter was a 4.5 meter saltwater croc named Gizmo.
It was so crazy to see this croc emerge from the murky water near the bank and make his way up to the boat.
Gizmo came straight up to the back of the boat where the engine is. As it sounds like a heart beat to them, then slowly made his way to the front of the boat.
The tour guide put some buffalo meat on the end of a large pole and dangled it out over the water.
Gizmo sized it up for a couple of seconds then submerged his back end into the water to summon up the power to launch himself out of the water to grab his snack.
WOW it was so crazy to be so close to this wild beast as it launched out of the water right next to the boat!
It made me think if them launching out of the water for their snack has ever ended in a croc landing inside the boat. That would be such a catastrophic event!
The second crocodile we encountered was another 4.5 meter saltwater croc named Scoot.
It's so intense when they come up right next to the boat and you see how big these bad boys really are!
Now the third crocodile we came across is named Scary! Weighing in at over 700 kg and 5.5 meters long you know where he gets his name from.
Scary runs these parts of the Adelaide River and all the other male crocs have to bow down to this beast.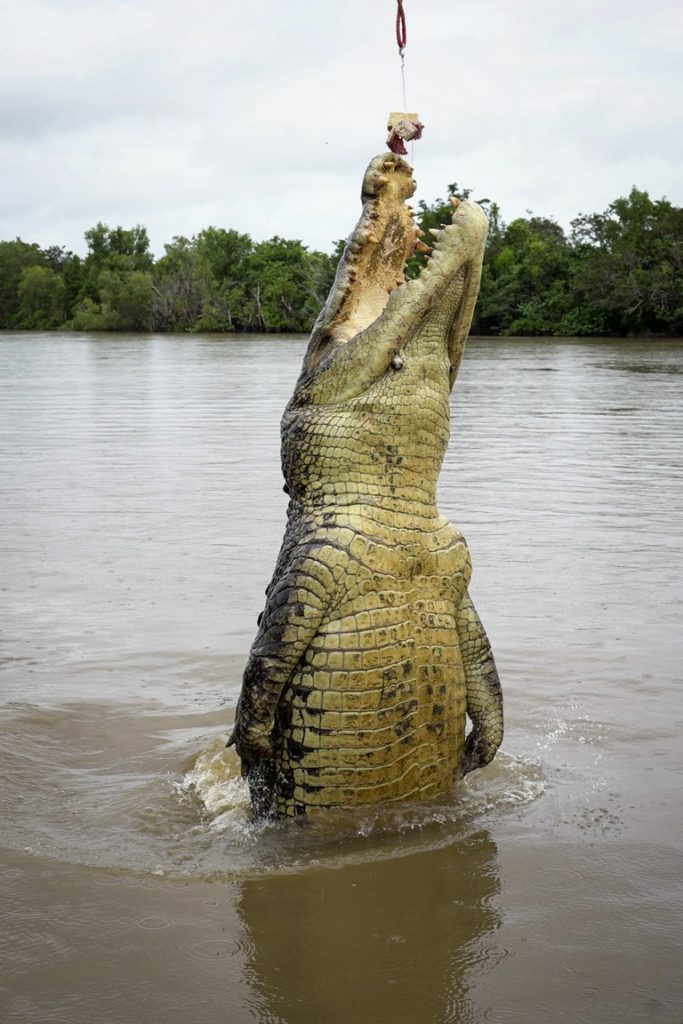 Watching him jump out of the water to get his snack it's mind blowing how big and powerful he is.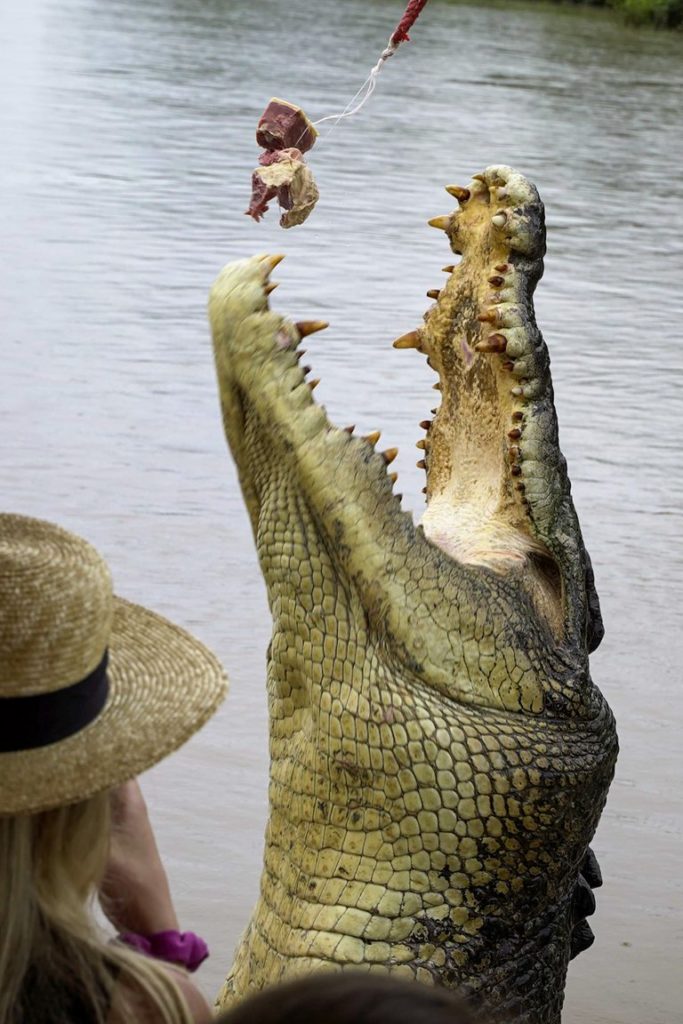 And you can clearly see why these killing machines are Australia's apex predators! Now I have to say this boat cruise was a jaw dropping experience!!
How do crocodiles jump out of the water??
By using their strong and powerful tails they are able to launch themselves up and out of the water. Which I guess isn't really jumping but still impressive nonetheless!
So if you're ever driving to Kakadu from Darwin, or if you too want to see these "jumping" prehistoric dinosaurs make sure you stop off at the original jumping crocodile cruise. It is one hell of an experience!!
For another insane salt water crocodile experience check out 👇🐊
Cage of Death – Crocodile swim
For another thing to do in Darwin why not try a helicopter pub crawl ??? 🚁🍻