The ancient statutes at Ahu Tongariki on Easter Island are some of the most fascinating I have ever seen.. In fact the whole island is one of the most fascinating places I have ever been!
Man what an unforgettable adventure this was!
And I think it will always hold a special place in my heart. Everything about Easter Island is interesting, and after watching so many documentaries featuring this iconic place, we had to peep these Moai with our own eyes 👀
So we hired a scooter and explored the island over two days. This way we could visit all the Moai's on the island.
What are Moai?
The Moai are the huge statues with human like faces. They can be found all around the island.
Although some might look like they're just giant heads… There is actually a body, but it's hidden underground!
And you'll notice that the Moai all have their backs to the ocean.. This was to protect the tribes on land, or so they say.
But during the islands civil war between tribes, they knocked each others statues down. So most of the Moai have been restored as best as they could.
But you will still find fallen Moai scattered around the island. However these particular Moai never made it to their final destinations, like this one belly up at Ahu Tongariki.
Now the largest line up of Moai on Easter Island, is Ahu Tongariki.
Here you will find 15 Moai lined up on top of a flat rock around 100 meters long… Kinda like an ancient megalith police line up haha.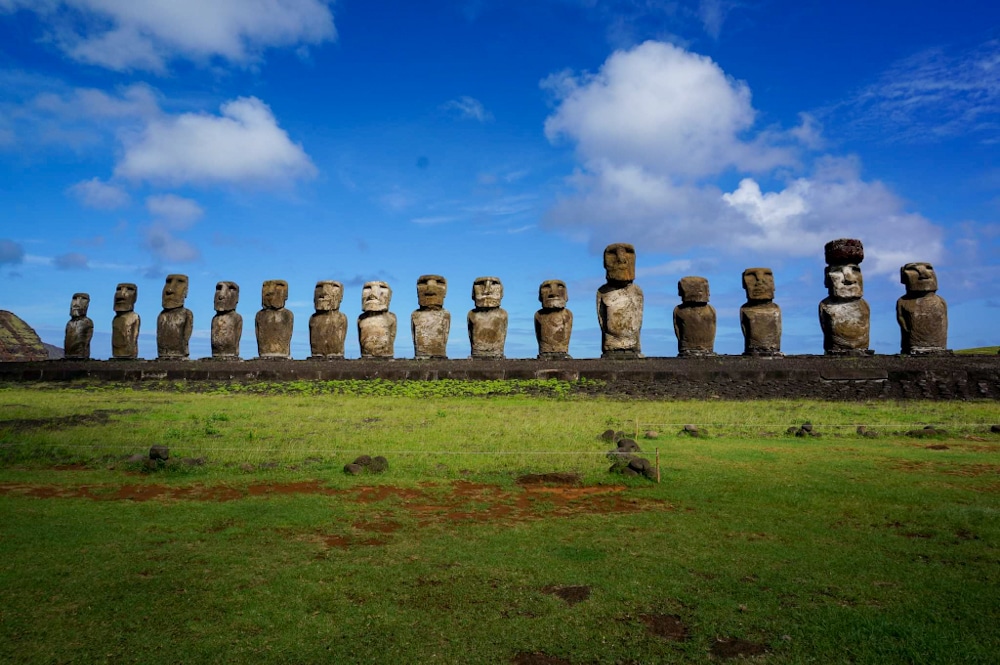 These Moai measure between 5.6 and 8.7 meters high and weigh up to 14 tonnes each. But the fifth from the right, is the largest weighing in at a whopping 86 tonnes!.. Really makes you wonder how they got it there 🤔
Compared to other sites on the island, the old volcano quarry isn't too far from this site. But it still would have been a magnificent achievement to move these statues here.
One of the Moai has a pukao on its head. Which is a red volcanic rock hat.
When you arrive at the entrance to Ahu Tongariki, you're greeted by a solo Moai.
With the 15 lined up in the distance. Just keep an eye out for the wild horses that roam freely across the island. Because these guys are everywhere!!
The best part of exploring Easter Island on a scooter is that you can explore at your own leisure, and avoid the tourist buses.
That way you will have places like this all to yourself… To sit back and speculate why they made these statues? And how did they move them from the volcanic rock quarry on the side of the old volcano, to each place around the island?
The Moai statues have puzzled archaeologists and visitors for so many years. And I think I left with more questions than answers…
But I hope one day we can return to this paradise island again 🤞🗿🤞🗿
For more Easter Island blogs check these out 👀👇😊
The most remote community on Earth – Part one
Easter Island, Chile – Part two
Exploring lava tubes and caves on Easter Island
Looking for a place to stay? Check out accommodation options on Easter Island at booking.com