The Rock restaurant in Zanzibar is world renowned due to it's unique location. As the name suggests, the restaurant is perched on top of a rock!…
And if that wasn't impressive enough said rock is positioned off the coast of Michamvi Pingwe beach.
White sand and the Indian ocean surround The Rock
When the tide's out you can simply walk across the sand. At low tide you can wade out in the warm waters. And when it's high tide there are complimentary boat transfers available.
The Rock was originally a fisherman's post. But with a bit of love and careful planning, it's been transformed into one of the world's most unique restaurants!
With logistics of electricity, plumbing and waste management all carefully considered, the Rock has minimal environmental impact.
It's not only the stunning location that brings all the diners to the beach… But the food as well!!
Zanzibar is known as the Spice Island. So you can bet that all of the best spices are used to create the most exotic flavours!
The menu consists of local cuisine and lots of SEAFOOD!!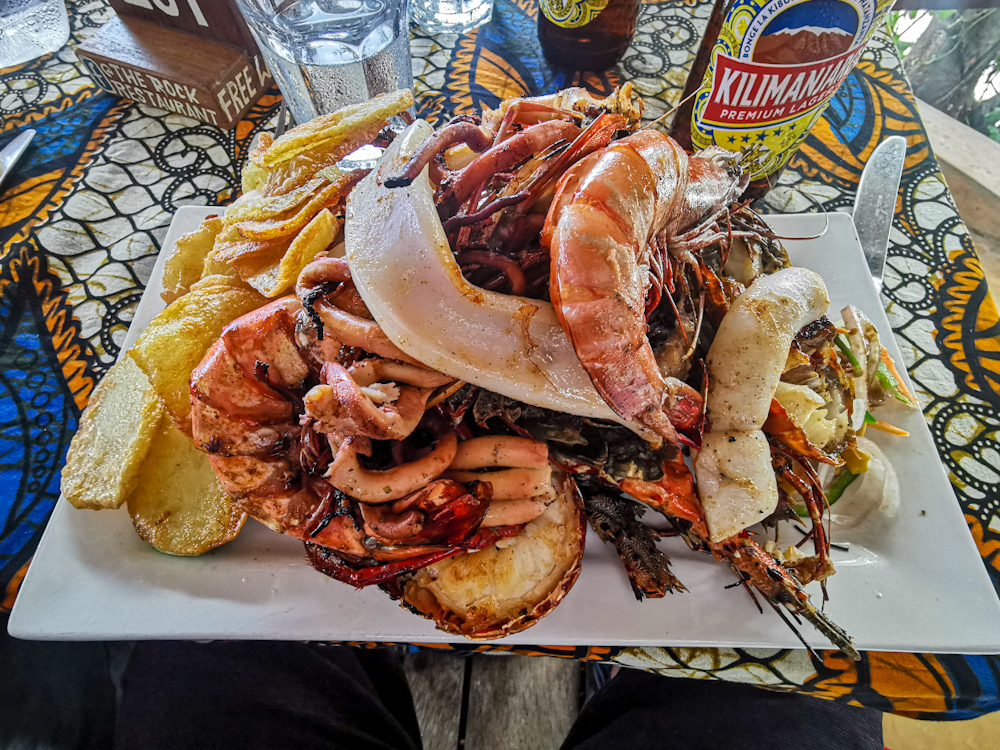 All locally sourced and made with the freshest ingredients. I'm not a huge seafood fan but was still super keen to check this place out… Because location, location, location!!! Haha
The fact this place makes great food is a massive bonus! Obviously the location is a huge draw card so people will come to the restaurant regardless…
But you throw in some delicious, tasty food and you have yourself a winning combination!
The Rock restaurant is located on the south east corner of Zanzibar
Even though we were on the complete opposite side of the Island we were going to mission it there!
We caught a taxi from Stone Town and the drive takes about an hour and half. When we arrive the sky is bright blue and tide is out.
Which was a bit disappointing as I was looking forward to walking through the water!.. Oh well, it's still cool to walk across the sand and climb up the stairs of The Rock!!
We're seated outside and it's a lovely view
By the time we've finished our food and drinks, the tide has come in. Wow! That happened so quickly.
I'm pretty excited because now we get the chance to wade through the water.
There is a sandbag walk way which was very handy. Using this we were knee deep in the water.
The water is surprisingly warm. If the taxi wasn't waiting for us, would of stuck around for a swim!
So when on Zanzibar I highly recommend visiting the Rock restaurant!
It has a laid back ambience and good service, served with a smile. Scenery is beautiful, food is tasty and decently priced. Two thumbs up 👍😊👍
For more East African blogs, check out 👇