The Mega Ranch is home to one of only three Mega Ramps in the world. Here is a recap of my first session at it. My session just happened to take place at the same time the first Rollerblade competition was being held at a Mega Ramp in Australia!
Now the mega ramp has been number one on my bucket list for so long now. I was so excited when I finally got to tick it off! It was a day full of mixed emotions. The anxiety leading up to comp was very full on. We had the Australian titles in Geelong the day before and I didn't really skate much to save myself from injury. I wanted to save myself so I could session the mega ramp with everyone! Once you see how big this set up really is the nerves kick in.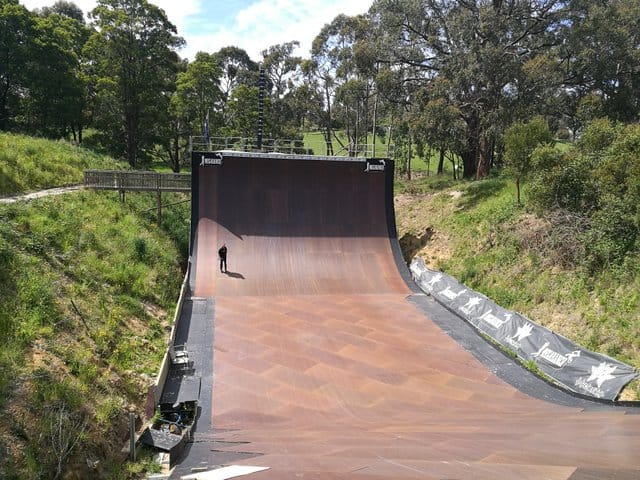 The Set Up
This vert quarter pipe is 28ft high, the biggest vert ramp in the Southern Hemisphere. Although this ramp is so big, it is very forgiving in the angle. It boosts you straight up and not out.
There is six roll in points to hit the three kickers. The top of the roll in is about four stories off the ground. And the biggest roll in's have some vert extensions you can add to get that extra speed.
The smallest kicker send you around 10 meters over the gap.
My one goal was to 360 a mega ramp. So that was the trick I practiced all day.
The entire surface is covered in skate lite which is a hard plastic surface. It makes the surface very smooth and forgiving when you crash and slide out.
Warm Up
Now my fear of heights was not in my favour when I was standing at the top of the roll in. I would look down the ramp and my vision went all blurry and I became dizzy. But I had to push through it to be able to session this ramp. It is such a beast!

Now everything I have ever learnt about skating a box jump didn't work on this scale. It is like nothing I have ever skated before. When you hit the lip of the kicker you have to slow your rotation down so much because you are in the air for around three seconds. You don't want to over rotate your spin. It took me about three goes at the kicker to work out the spin speed. The first attempt I had, I over rotated and landed side ways on the down ramp on my hip.
But I quickly learnt not to do that again ha ha.
Once I worked it out it was so much fun and the best feeling ever! The speed you get from dropping in on the roll in and the sound of the air whistling past your ears is like nothing else. Then once you're in the air its like complete silence. Until you stick your landing and you are going so damn fast into this huge quarter pipe.
Now I haven't skated a vert ramp in years let alone the largest vert ramp in the Southern Hemisphere! So it was terrifying to be headed at the beast of a ramp at around 50 km/h. So I would try and wash off as much speed as possible before I got to the quarter pipe so I didn't go over the coping. Or I would just fall to my knees and slide along the flat.
The Comp
We all faced our fears on this ramp. And got kind of used to it then it was comp time. I said to the guys my only goal was to 360 the gap. I wasn't going to push myself on any other tricks cause I didn't want to get hurt. Earlier in the day one of the guy's had a crash and dislocated his shoulder.
There was 11 competitors all up in the mega comp and we had two heats with four runs each. I just stuck to my 360's as the other guys pushed their limits to see what the could land.

Dingle absolutely shredded the mega ramp. You could see his training on this beast had paid off. He sent the biggest back flip I had ever seen!
Once the heats were over they called for a finals and some how I made it through. I wasnt expecting that at all, as I was just playing around with 360's.
I had already taken my pads and skates off and was talking to the owner of the Mega Ranch when they called my name out. My ankle was sore from a crash I had earlier in the day and was pretty much done skating. So I padded up, strapped on my skates and headed back up the top to do another three lot's of 360's ha ha.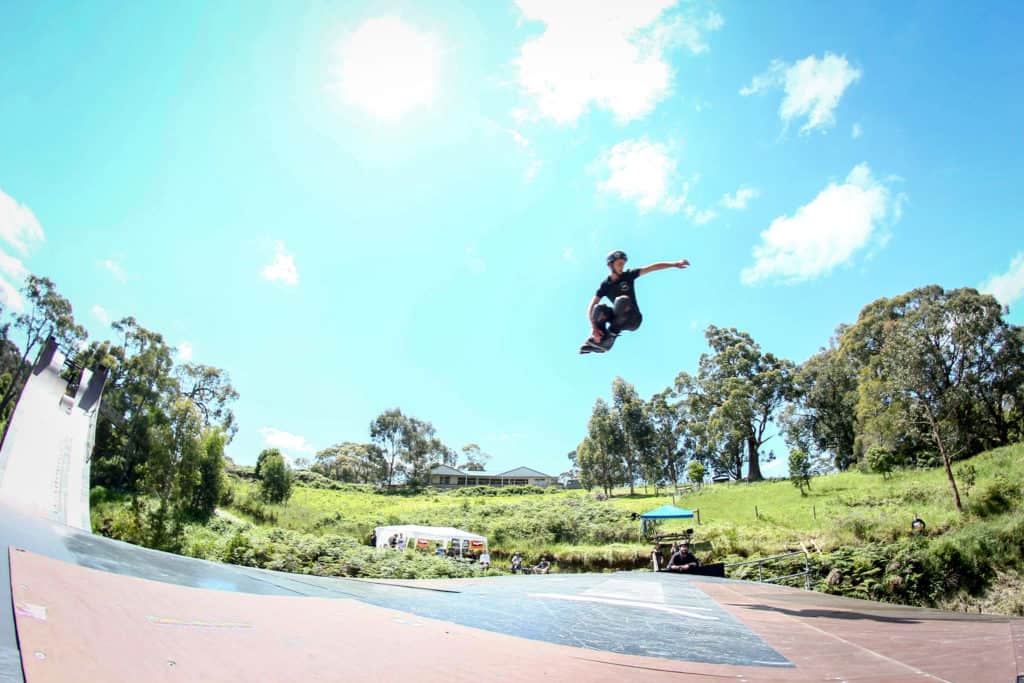 I didn't get to see what the other guys sent over the gap. As soon as I landed I had to get back up the top to skate again.
The finals were done and we were all sweaty and a bit sun burnt. But most of us got to walk away from a full day of skating a mega ramp. Which looking back on it is CRAZY!!
The Winners
I got the camera out to film the prize presentation, and they announced the best trick comp first. "And for 3rd place Gerard" I couldn't believe it! I placed 3rd in the best trick comp with my 360's.
I guess slow and steady won the race. As I didnt push my self in the finals and landed three of the four 360's.
It was an amazing experience to have the opportunity to skate a Mega Ramp, better yet that it was in Australia! And I didn't have to fly to America to tick it off my bucket list ☺
Massive shout out to Nick for organizing the competition and to the Mega Ranch for building this beast on their property in Victoria. And to everyone that manned up and skated the beast!
If you ever want to have a go at the Mega Ramp in Australia, get in contact with the Mega Ranch HERE! They run camps for Skateboard, scooter and BMX regularly.
The Mega Ranch is also Keefer's back yard so you will get to shred with this rad little man when you go here 🙂
This was a day I will never forget!
Happy landings.